Technology
"I recognize that there are things that could have been improved in 2017"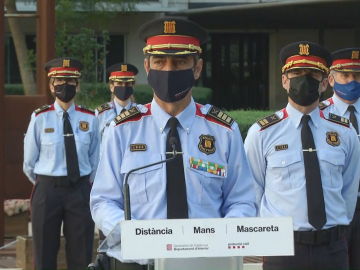 Publication: Friday November 13, 2020 1:06 PM
Josep Lluís Trapero was presented this Friday as major of the Mossos after being reinstated in his functions by the Minister of the Interior, Miquel Sàmper, who wanted to say "clearly" that "there is no dismissal", but that "there is a restitution". In this sense, he thanked outgoing Major Eduard Sellent for his work.
In an act in which Trapero was taken to safety by the Catalan police leadership after accepting the challenge of leading it again, he wanted to remember the victims of the Barcelona and Cambrils attacks, including the anniversary is this Friday. "The first message I want to give as the head of the corps is support for the victims," ​​he said.
Trapero also thanked the three people who "took the reins" of the body while he was in the legal process of secessionism, of which he was acquitted. "Eternally grateful, thanks to them, confidence has been restored."
Plus, he admitted he had "doubts" about his return, but he did so because the body "is" a "part" of his life: "I felt absorbed in the decision. In 2017 – during the illegal referendum of October 1 – I recognize there are things that I could have seen better from a distance. I have grown as a person over these three years.
Minister Sàmper made a point of clarifying in the law that "after the acquittal, we must move forward" and pointed out that it is a "new era" and that they are starting "from zero": "We must stop look at the rear view ".
The government reinstated Trapero three years after his dismissal in October 2017 under Article 155, after he was acquitted in the rebellion trial in the national court.
In statements to TV3, the Minister of the Interior assured that the restitution of Major Trapero has the approval of the former president of the Generalitat Carles Puigdemont and that he informed the acting vice-president of the president of the Generalitat, Pere Aragonès (ERC), who also shares the decision.
After the acquittal of the national court on October 21, in which Trapero was tried for a crime of rebellion – which the prosecution eventually reduced to sedition or even disobedience – the councilor reiterated to the mayor his desire to bring him back at the front. des Mossos d'Esquadra, with the aim of "reversing the effects of Article 155".