Technology
"If this happened with the nationalists, we would cry out to heaven"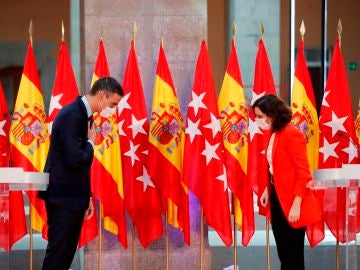 Updated: Friday, October 30, 2020 11:56 a.m.
Published on: 10/30/2020 11:44
Regional governments have started expressing their dissatisfaction with government transfers to Isabel Díaz Ayuso after allowing her to enforce a community-wide perimeter closure only during the Todos los Santos and Almudena bridges.
A malaise that goes from the socialist ranks to "popular" governments, and which has also surprised some ministers. The leaders of the PSOE do not understand that from the executive of Pedro Sánchez they are playing the game to the president of the Community of Madrid, while in Andalusia they do not share the decision of such a brief closure.
The president of Castilla-La Mancha has been very harsh on the decision of the executive of Pedro Sánchez. He believes that if this mission had been done in another community "we would cry out to heaven". "The government authorized something that if it happened with the nationalists we would already be screaming in the sky and with the flag behind," he said in "Public Mirror".
Emiliano García-Page also says he is "surprised" by this decision and recalls that "the law says that the minimum period of restriction is seven days, depending on epidemiological reasons" and the incubation time of the virus.
The Valencian President, Ximo Puig, spoke in the same direction, who also recalled that "it had already been suggested that the measures should be evaluated after a certain time". "We cannot assess the restrictions five days after they are applied," he said.
I am very respectful of the decisions of colleagues from other autonomous communities, but in Andalusia we would not have done it "
But this move with Madrid not only annoyed the Socialists, the leaders of the People's Party also opposed the move. The Minister of the Presidency, Public Administration and the Interior and spokesperson for the Andalusian Government, Elías Bendodo, indicated that in his community, they had not closed for only four days.
"I am very respectful of the decisions of other colleagues from other Autonomous Communities, but in Andalusia we would not have done this and we did not do it", underlined the "popular" leader about the measures adopted. by Isabel Díaz Ayuso.
The central government insists that the temporary limitations of the restrictions will be discussed at the next Interterritorial Council of the National Health System and ensures that there has been no assignment to the Madrid Executive.
For her part, the president of Madrid assured during an appearance by the Community of Madrid that it was not a question of the triumph of anyone nor that there was war between her and Pedro Sánchez, but that they apply the health criteria that they find useful in the area and that, in their opinion, work.