Technology
"If we all start to have an opinion, we confuse the citizens"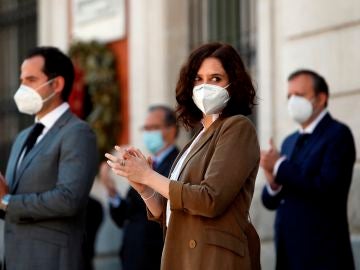 Posted: Saturday October 31 2020 12:37 PM
The president of the Community of Madrid, Isabel Díaz Ayuso, appeared after the opening of an exhibition dedicated to Gregorio Ordóñez. Amid the controversy after the government approved his plan to close the area's perimeter for days, Ayuso once again defended his "surgical measures."
He also responded to the words of his vice-president, Ignacio Aguado, who asked "not to walk with half measures or hesitation", adding that a new confinement like the one in force in Belgium must be avoided.
"We need clear, consistent and strong action. We are playing a lot," Aguado added. Before these words, Ayuso was clear: "If we all start to have an opinion, we confuse the citizens. The regional president asks that there be a single strategy against the pandemic, "not three different", insisting that the authority rests with Enrique Ruiz Escudero, Minister of Health.
"I decided it was important to stop at times of greatest influx. I want to perform surgeries where there is more movement, but the rest of the citizens can live normally. They work for us." , defended Ayuso.
He also asked "to avoid closed spaces" and to "ventilate" them before the accumulation of aerosols, recalling the words of Antonio Zapatero this Friday.