Technology
Iglesias values ​​Bildu's 'yes' to budgets as it strengthens the majority of the left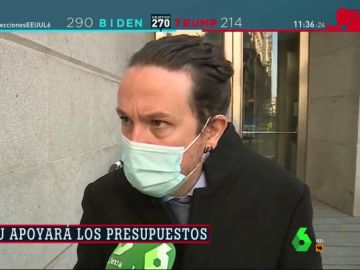 Posted: Wednesday November 11 2020 12:28 PM
EH Bildu paved the way for coalition government budgets. This is the first "yes" the government has received and Pablo Iglesias believes he is on the verge of obtaining a majority on the left to carry out the accounts of his executive.
The vice-president of the government considers that this is "good news" and they are going "in the right direction" although he calls for "caution" because, he says, "these are provisional announcements and it is time to continue working with Esquerra Republicana and the rest of the parties "to close the support in this regard.
This was indicated in statements to LaSexta, in which he also acknowledged that Bildu's "yes" responds to his party's negotiations. "We have been working for a long time so that the government keeps a left direction. We will continue to work, not only to execute the general state budgets, but so that our country is moving in a better direction," he said. -he declares.
The support of Ciudadanos is unachievable because they govern thanks to the support of the extreme right and are part of the Colón bloc "
The position of the Basque party led Ciudadanos to ask Pedro Sánchez to choose one direction or another. Inés Arrimadas' party believes that this responds to a "child trap of Podemos" because, in his opinion, Iglesias does not want them to be "there because it takes away decision-making power and influence".
In this regard, the leader of United We Can recalled that his party had been saying "for months that the support of citizens for certain budgets of a left coalition government is unachievable" because they govern "thanks to the support of the 'far right and are part of the Colon ".
"I think common sense prevails. The government's obligation is to bet on the nomination partners and, in the end, reality confirms that it is difficult to reach agreements of this magnitude with a governing force through to Vox, "he said. the vice-president of the executive.
Bildu's announcement and Iglesias' reaction have already had a response from the PP. Parliamentary spokeswoman Cuca Gamarra says it "shows who the supporters of Sánchez and Iglesias are. The most expensive support that has been paid for budgets."
According to him, these are the most expensive budgets "in terms of equality and unity between the Spaniards. We must not forget the parallel negotiations that are taking place: the transfers to the separatists and to the heirs of the ETA gang".