Technology
Illa says they will buy more vaccines than needed: "We want to be safe"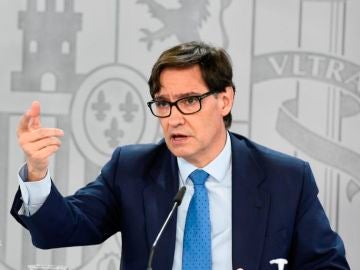 Updated: Friday, November 13, 2020 2:29 PM
Published on: 11/13/2020 2:28 PM
Health Minister Salvador Illa assured that Spain, as part of the European strategy, would buy more COVID vaccines than it needs to "be safe" and that the forecasts are only at the beginning of the year, they can be administered. the first doses.
The minister stressed that the EU's common vaccination strategy will allow member countries to compare seven different vaccines that will be distributed fairly among states, without sacrificing "safety in any case".
As part of this European strategy, Spain has seven vaccines on the horizon: those prepared by Sanofi, Janssen, Astrazeneca, Pfizer and BioNTech, with which the European Commission has already signed acquisition contracts; and those of Novavax, Moderna and Curevac, whose signature is "imminent", Illa has advanced.
"We will buy more vaccines than necessary, because we want to be sure. We will buy the whole lot, to be sure to have the first vaccines and all the technologies and, if there are any left, in an exercise of solidarity, we will provide them to the countries which they may need ", declared the Minister.
In this line, he remarked that "there is logistics, there are capacities, there is professionalism" to achieve it: "And now we will have to vaccinate maybe 30 or 40 million people, well we will.
He predicted that "most likely early next year" Spain will already have "one or more vaccines", which will be administered to the population according to a vaccination strategy which will predictably set priority groups and which will be announced "In the coming weeks".
This strategy will be defined by a group of "eminently technical" experts, in collaboration with the autonomous communities, underlined the Minister, who, although not having provided more details, guaranteed that the criteria of administration will be " the same throughout Spain and ideally throughout Europe. ".
With this strategy, the forecast is that "by May there will be a sufficiently relevant number of people" vaccinated, with whom "the pandemic will not stop", but it will be possible to move to a "different stage which allows to significantly ease some of the "restrictive measures," Illa said.