Technology
"I'm not going to get off the boat and leave it empty"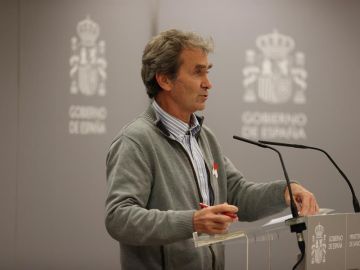 Posted: Monday November 16 2020 19:58
The General Council of Physicians – with the exception of that of the Faculties of Medicine of Catalonia – has called for the dismissal of Fernando Simón, director of the Center for the Coordination of Alerts and Emergencies, "due to his manifest and prolonged incapacity throughout the evolution of the pandemic. ". "I am not going to get off the boat and leave it empty," Simón, also a spokesperson for Health, said at a press conference.
Asked about the criticisms he has received, Simón himself admitted on Monday that "neither now nor ever, in any activity in which I have participated, everything has been done well", because, he admits, "there is always something that can be improved".
But the decision of his dismissal, remember, is not up to him but to his superiors, since he is a civil servant. Thus, it maintains that the requests which have been made by groups of professionals "are perfectly within their right to give their opinion".
And he adds: "I am a civil servant and my position is what my superiors decide." "If I have to be here, I will be; if you consider that I shouldn't be, I won't be. "I'm not going to get off the boat and leave it empty," he decided.
The controversy arose following statements last Thursday in which the director of CCAES claimed that infections between health workers could be affected by the saturation of hospitals and the behavior of health workers, among other factors.
"As far as health professionals are concerned, it is not a question of equipment, which has been available for a long time, but it is true that there are other important factors. First, less congestion in hospitals reduces risks. professionals throughout the first wave process reduce risk in the current wave, learning from hospital managers who establish better circuits and mechanisms for infection protection and control promotes risk reduction for professionals, and Obviously, better behavior of the entire population, including professionals when they are out of work, reduce the risk that these same professionals are infected outside and then carry the infection into their working environment ", declared the epidemiologist.
Simón felt that "the best thing to do to assess if my words have been misrepresented is to listen to the press conference and assess what I said, what they say they said and what is being proposed. 'arrive. with my future. "
The support received
Following his request for dismissal, the Minister of Health, Salvador Illa, added that Simón is "an exemplary civil servant", who has his full support. Thus excluding a possible termination.
Defense Minister Margarita Robles joined in, defending the "dedicated" work of Fernando Simón. "We have met every day to make an evolution of the pandemic and I saw an absolutely dedicated and dedicated person", explained the minister in 'laSexta Noche'.
The prestigious ex-WHO leader Rafael Bengoa also turned to Simón. "The General Council of Medical Associations calls for the dismissal of Fernando Simón. This is not the way to go. When errors occur in our hospitals, we ask 'what happened' and not 'who is the fault. "This is how we learn. Simon has had my support for the most complex medical task in decades!" He expressed through social media.