Technology
Images of clashes between violent protesters and police in Logroño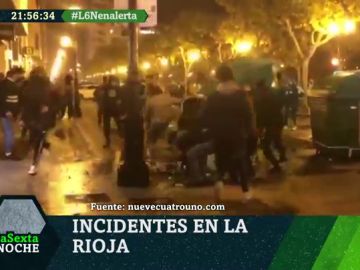 Updated: Saturday, October 31, 2020 10:42 PM
Published on: 10/31/2020 22:25
A group of violent people, many of them young, staged riots in central Logroño, where they passed through several containers, threw stones at police and cut off traffic in one of the areas near the headquarters of the executive of Riojan and the delegation of the government of La Rioja.
Manuel Martín, journalist for 'Nuevecuatrouno.com', pointed out on LaSexta Noche that "around 8 p.m., a concentration that had been called by the hotel industry in the region to protest against the closure of Logroño was used by a group of 150 radicals, who had nothing to do with the hoteliers, but who infiltrated the demonstration. "
Thus, as Martín reports, "within ten minutes of the start of the demonstration, they began to file a complaint against the police, to whom they threw bottles, stones and sticks and burned containers". "The images, which speak for themselves, are very similar to those seen in Barcelona or Bilbao in the previous days," said the journalist, adding that "they have already started looting clothing stores" .
Likewise, they lit several bonfires in the central streets of Doctores Casrtoviejo, Gran Vía and Vara de Rey, next to the Paseo de El Espolón, where they damaged the photographic exhibition that was there, resulting in resulted in several charges from the police. with riot gear. The radicals also smashed windows in the commercial area of ​​"Las Cien Tiendas", in the center of the capital of Riojan.
The police at times during these disturbances had to hide behind police vans in front of objects thrown at them. Data provided by the government delegation indicates that ten minutes after the start of a hotel industry protest, some 150 people began to harass the national police by throwing stones, flares and other objects. This forced the police to carry out several interventions without further information being provided.
From this Saturday, the Riojan municipalities of Logroño and Arnedo have been confined to the perimeter and their hotel activity is completely closed due to the situation caused by the coronavirus.
For its part, the Riojan hotel industry has issued a statement in which it "shows its rejection" of the acts that have taken place in the center of Logroño and other corners of the region and completely dissociates itself from the events. In addition, all sectors of the hospitality industry in Riojan reiterate their commitment "to dialogue and collaborative work" with the government of La Rioja and the rest of national, regional and local authorities "to face the complicated situation of the sector" .