Technology
"Is there money in the world to take my son out of the business?"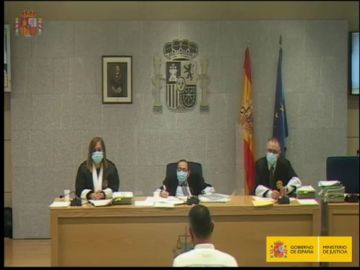 Publication: Friday, November 13, 2020 3:08 PM
Francisco Javier lost his barely three-year-old son Xavi in ​​the attack on La Rambla in Barcelona. More than three years later, he said this Friday at the fourth session of the trial at the High National Court.
There he criticized the fact that the help the families of the victims received was limited and argued that "there was a lot that could have been done at that time to prevent this attack."
"They told me that they were going to give me money. Is there enough money in the world to take my son out of the niche and give him life?" He lamented. . "My son is worth, so that people know if they kill him in a terrorist attack, 250,000 euros," he added.
I wanted the death of my son to serve a purpose "
The witness said his "fight these years" has been "to know how to protect the two girls I left behind, what to do to make sure this does not happen again", to change the victim care protocols and to know "what went wrong and what we can make sure that doesn't happen again."
"We all lost my son, because I don't know if my son would be the president of the world, the first astronaut to go to Mars. We will never know what my son would be," he lamented. "I wanted my son's death to serve a purpose," he said.
The hard memory of the attack
During his statement, Francisco Javier Martínez offered a harsh testimony of what happened on August 17, 2017. "My son's mother called me, telling me in a broken voice that they had crushed Xavi », He remembers. A few days later, his ex-wife told him that the little boy "had flown about 50 meters from where he was".
There was a silence that I will not forget in my life "
The witness recalled how he found "people on the ground" when he arrived at the scene of the attack. "There was a silence that I will not forget in my life. I have never heard this silence, neither in a church nor elsewhere," he recalls.
Francisco Javier also spoke of the "dead silence" he found in the primary care center where his son, ex-wife and daughter were being treated. The very serious child was taken to hospital, where he eventually died.
"We spent two or three hours with my son. My mother, Xavi's grandmother, held him in her arms saying 'nothing is wrong with him, he is only cold, if we can. warms up, he wakes up, "" recalls the excited father. "For me, reliving this is very difficult," he admitted before the judge.
Xavi's father, whose voice broke when he thanked the Mossos d'Esquadra for their work, stressed that "they felt so bad that I couldn't save my son's life" .
"All of us who are parents have a feeling of protection towards our children and we never think that anything can happen to them, we always think that it happens to us before", he lamented. "All the feelings that one has to carry on in life and fight have been shattered on the soil of La Rambla," he said.