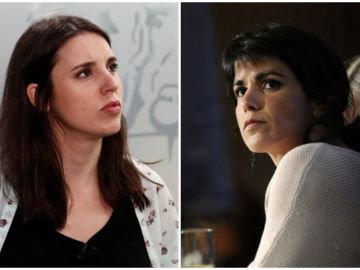 Posted: Friday October 30 2020 20:47
Hard clash on social networks between Irene Montero and Teresa Rodríguez after the Minister of Equality explained the timing for the expulsion of Podemos from Teresa Rodríguez: during her maternity leave. "I have had two consecutive pregnancies, always taking responsibility. The politics don't stop while we are on leave," Montero said in statements to Radio Nacional de España.
Right away, Rodríguez responded via Twitter: "With this argument a businessman can tell a worker: 'The factory is not shutting down because of your maternity leave. In the street. "It hurts, and not only for me. The Minister for Equality!". The brawl didn't end there. Montero accused Andalusian politics of using an "embarrassing" argument.
"Teresa, you weren't fired. You are still a member of Parliament and you receive your entire political salary even if you have left the party which took you to the institutions. It is embarrassing that you compare yourself to a laid-off precarious worker. This led Teresa Rodríguez to reload.
Still on Twitter, the leader of Adelante Andalucía assured that she had not compared herself to "a precarious woman", and added: "I said that the argument is the same. I receive my teaching salary, the rest I give. The world knows that I am in politics because of the money, because I have a job to return to. "And he ended with this allusion:" Politics hasn't changed my neighborhood. "