Technology
"It's the closest thing to a war I have ever seen"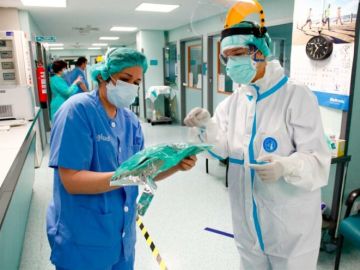 Posted: Friday, October 30, 2020 4:02 PM
"I don't know what a war will look like, but it was the closest thing to a war I have ever seen." It is shocking to hear it spoken by a doctor, in Madrid, at the La Paz hospital. So says Pablo Millán, intensive care doctor, intensive care unit with COVId-19 patients.
In this hospital, one of the most important in Madrid and Spain, there are nearly fifty critical patients and 150 infected patients have been admitted to the ICU.
They saw, at the worst of the pandemic, how up to 40 people died in a single day. "What we're doing is saving time, it's time we gave them up and kept them alive," adds Millán to laSexta, who entered the ICU in La Paz, a place rarely seen in television because access is restricted.
In fact, he tells us how emotionally "hard" it is that the families of patients cannot come and see them, that they are not close to each other, combining feelings of "fear", "anguish" and "helplessness".
Abelardo García, head of the intensive medicine department at La Paz hospital, says they are "used" to serious situations, but admits that it is an "avalanche".
He says they went on vacation "thinking it was going to be controlled" and "suddenly the problem started again". "There was no time to rest, we had the illusion that it was going to be half controlled," he said.
But they don't let their spirits wither because they suspect the situation will drag on and on. For them, for their patients, they think of leaving the skin. Because they know that the latter help can be the key to keeping them connected with life.