Technology
Judge 17A spoke to a lawyer who asked if the password for an accused was "Allah is great".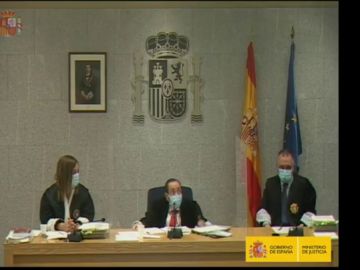 Publication: Thursday, November 12, 2020 3:31 PM
Angry judge Alfonso Guevara, president of the tribunal in the trial for the attacks in Barcelona and Cambrils, for a question about the password of the cell phone of one of the accused.
One of the prosecutors asked the witness, a Mosso d'Esquadra, for the phone number of Driss Oukabir – in whose name the van of mass indignation on the Rambla was rented -, which the magistrate objected to. , ensuring that the question "does not interest us".
However, the lawyer insisted and rephrased the question, questioning the witness whether the password in question was "Al·lahu-àkbar" – "Allah is the greatest", according to the court translator. , which the declarant replied in the affirmative.
"It is a completely religious demonstration, which is why I did not want to be answered", then reproached the magistrate. "We were asking ourselves a question of belief, like I was putting 'God bless' on my phone," he said.
Fighting a lawyer: "The irony, on the other side"
This is not the only clash the magistrate played on the third day of the trial before the National Court. Previously, Guevara had scolded the lawyers, who he criticized that "one thing is that we wait and another thing is that it starts here like in a bar".
He also had a clash with the lawyer for the parents of Xavi, the boy who died in the attack on La Rambla, Jaume Alonso Cuevillas. The judge did not allow him to ask a question as he deemed her "impertinent", to which the lawyer said: "Thank you for your kindness, Mr. President."
A comment that did not please the magistrate. "Irony, though, I'm warning you," he said dryly.
"I am not answered that way; to me personally yes, to what I represent, no", he added, declaring that "if now it is the fashion not to respect the institutions, they are respected here. "and warning" The room reserves to inform the Bar ".
Accident at the start of the trial: "I am not an electrician"
Already Tuesday, at the start of the first session of the trial, there had been an argument with another of the lawyers, who complained of not having a socket to plug in his computer. "They will bring you the extension cord," slammed the judge, adding: "The socket is already more difficult, because I am not an electrician."
However, the lawyer wanted to leave the room because he did not want to be with the prosecutor. "No sir, don't leave the room," Guevara ordered, visibly angry, despite the lawyer's insistence.
"It's over, do not leave the room," repeated the judge, raising his voice, during a hearing during which he was also annoyed by the interventions of another lawyer: "Nobody has the I don't know if I speak In another language.