Technology
Junts per Catalunya suspends spokesperson Eduard Pujol from activism over possible sexual harassment case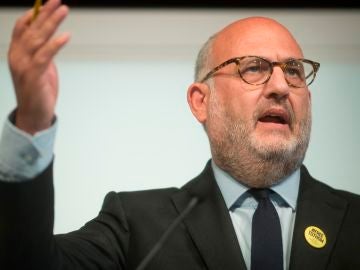 Publication: Monday October 26 2020 15:30
Junts per Catalunya has provisionally suspended its membership and forced the resignation of its parliament spokesperson, Eduard Pujol, after receiving complaints about an alleged case of sexual harassment.
This was announced by JxCat vice president and party spokeswoman Elsa Artadi at a telematic press conference on Monday, after the party announced Pujol's resignation from his seat this morning for "reasons personal ".
The decision was taken by JxCat during the meeting she held with the former MP which resulted in the resignation of the minutes, although as of yet there is no open court complaint.
Pujol joined JxCat's candidacy as an independent candidate in the Catalan elections of December 21, 2017, led by former President Carles Puigdemont, and served as deputy spokesperson and later spokesperson for the group.
As Artadi explained, the general secretary of JxCat, Jordi Sànchez, coinciding with his prison license, received this weekend several complaints which could point to a case of sexual harassment, some "very serious facts" before which the party decided to act "with force".
Likewise, the spokesperson also said that JxCat is not responsible for adjudicating these events or opening an internal investigation, but rather "taking political action" and accompanying "those who contacted and reported events "at the Catalan Institute. Women and others so that they do not feel alone.
"We understand that it must be justice that takes the measures and not the parties," he added. The resignation from the seat of Pujol, said Artadi, does not imply "the taking of guilt on his part".
During the press conference, Artadi avoided giving more details of the events so as not to "deprotate an already delicate situation in itself", but he referred to the complaints in the plural and warned that the party's decision is in the line of having "zero tolerance" with machismo.