Technology
LaSexta Barometer | 43.8% would not be willing to receive the first coronavirus vaccine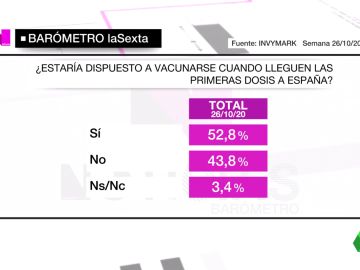 Posted: Saturday, November 7, 2020 2:19 PM
The vaccines that could fight the coronavirus are getting closer. We asked about this cure on the laSexta barometer, with notable division among citizens over whether or not to receive this vaccine.
A slight majority would be willing to receive these first doses of the vaccine as soon as they arrive in Spain, in particular 52.8% of those questioned. On the contrary, 43.8% would not be willing to get vaccinated first.
On the management of the pandemic in Spain, there is also a division. 51.8% think it is managed in the same way as in the rest of Europe, 40.6% believe that management is deteriorating and 7.5% think it better.
Only PSOE and United We voters can back the latter option with 13% and 19% support, respectively, although the majority of followers choose the option in the same direction as Europe.
The majority of followers of PP, Vox and Ciudadanos feel that it is less well managed. Finally, we wonder about a possible pact between Sánchez and Casado to fight against the pandemic and the crisis from which it results.
A large majority of almost three quarters (72.3%) would support a great Sánchez-Casado pact to jointly face the pandemic and the crisis. The majority of the voters of the PSOE, the PP and the citizens are in favor of the pact, where the broadest support is perceived for this possible pact. On the other hand, division between the followers of United We Can and Vox, even if the majority is against it. This is data from the Invimark Institute.