Technology
laSexta enters the ICU of La Paz hospital to learn more about the most critical moments of the pandemic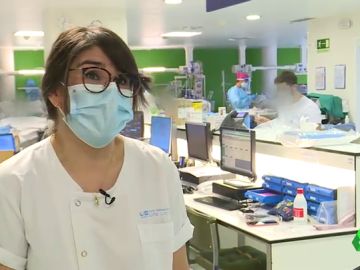 Inside the intensive care unit at La Paz hospital, nurse Irene Porres is preparing to fight the coronavirus on the front line. He does this with his PPE, although there are some things you can't protect yourself from.
With laSexta, he recalls his experiences with a COVID-19 patient: "I remember he arrived and we started talking to him to reassure him. This patient did not go well … and the truth is you remember it. "
Irene has been caring for the patients in this unit for over ten years and ensures that for her it is very cold to approach with so much protection.
"Through a plastic, a mask, a screen, it is difficult to humanize care. It's difficult, but we've looked for other ways to make the patient feel calm and secure, "he tells us.
In this intensive care unit, there is never a lack of affection, encouragement, an invitation to dialogue and calm, a smile, even if it is through the mask.
Of course, they emphasize that they are not heroes. They tell us that they too are afraid. "Maybe fear has evolved into respect. Working in an intensive care unit is a reality check, "says Irene.
A blow of reality and sensations, according to other colleagues, such as Doctor Pablo Millán: "Several sensations come together: a feeling of fear, a feeling of helplessness, a feeling of anguish … because all this requires a lot of work on a personal level and see later that it has not been used ".
And looking to the future, despite their physical and mental exhaustion, they try to "draw strength where there is none". "Because we think this situation will go on for a long time," says Irene. They will have to be 100% to treat the patients who are arriving and will arrive.