Technology
"Leopoldo López is the Venezuelan Mandela"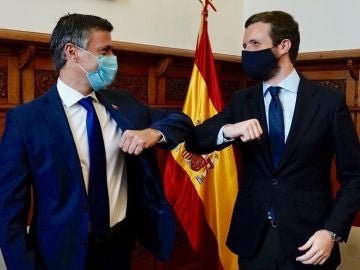 PP president Pablo Casado defined Venezuelan opponent Leopoldo López as "the Mandela of Venezuela and a hero of freedom" after meeting him in his office at the Congress of Deputies. Likewise, the PP leader declared that Leopoldo López's role will be "fundamental" for the history of his country.
"It's exciting to see my friend and freedom hero Leopoldo López after years of crackdown on dictator Maduro," Pablo Casado posted on his Twitter account, in which, in addition, he expressed his full support for his " demand for free presidential elections for the democratic transition, international sanctions against the regime and humanitarian plan for Venezuela ".
In addition, Casado assured Leopoldo López that "Spain is with him" and expressed his hope that "very soon there will be free elections in Venezuela and a peaceful transition to democracy".
For his part, López, who arrived in Spain last Sunday after fleeing the residence of the Spanish ambassador in Caracas, thanked Casado for his "commitment to the cause of Venezuela's freedom". "We need all political forces in this fight against dictatorship and for the defense of human rights," said the Venezuelan opponent on his Twitter profile, a message shared by the president of the Popular Party.