Culture
Lúa Ribeira, new photographic paths from the legendary Magnum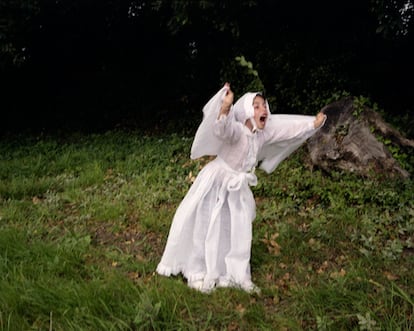 A Lúa Ribeira (As Pontes, A Coruña, 26 years) his eyes and mouth widen when he hears talk about funeral homes, those buildings that lead to the other world than in Galicia, his land native, they rise imposing even in the smallest towns. "Sometimes I go to funeral homes just to see them, because I can't believe we got there," confesses this documentary photographer, the third Spanish to join the emblematic Magnum agency. Around the head of this Galician girl, there is already a project to shape that funerary fascination.
Death, eternity and bodies in a trance walk through the images of Ribeira, settled in the United Kingdom for years. In that country he managed to make their way the same jobs that he sent to Spain without pain or glory. To enter the Olympus of Magnum has not even needed to publish in powerful media. He attributes his choice to his peculiar style, to a "way of telling his own." Like the Alicante Cristina de Middel, she joined last year as an associate, the second level of the agency. The only Spaniard in the first, that of the so-called full members, is Cristina García Rodero from La Mancha.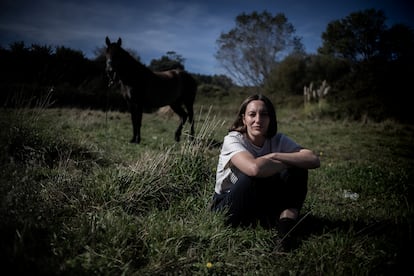 Ribeira, who attended EL PAÍS this Wednesday before giving a master class in A Coruña Within the activities of the Ksado Award, it has come to Magnum at a time when documentary photography and photojournalism are seeking their place in the empire of mobile phones and Instagram filters. In the new times, he points out, that "colonial perspective" of using photography to "feed Western media" with images from the rest of the world is in question and also makes no sense. A more artistic expression makes its way, he explains: "The technology we handle has changed the ways of counting. I no longer have to go to Singapore to tell what is happening because that reaches anywhere in two seconds thanks to the people who have a phone right there. It is the moment of experimentation, although it does not mean a break. I don't like the old versus the new. "
The legendary agency founded in 1947 by Robert Capa and Henri Cartier-Bresson, among others, to sell their work directly and improve their employment situation is also "In a moment of transformation," says Ribeira. The publishing market for magazines "is in the doldrums," warns Ribeira. Most new photographers no longer make a living from those posts. Invoices, he points out, are paid more with workshops, talks, conferences … "The agency continues to be closely connected with the legacy, but looking towards that new way of counting and managing this new market that is being restructured," he explains. "She is very much alive. That tension, instead of something problematic, should be a strength. "
In addition to projection, Magnum has given him to Ribeira the opportunity to interact with a community of "incredible" professionals where, as a cooperative, "all opinions are at the same level." Photography is still "a young discipline that is being used in a limited way," he emphasizes: "At the moment we are in, it is the most perfect medium, due to its immediacy, due to its power … You just have to change the way you does and also how it is perceived. "
Ribeira was born in the mid-eighties in As Pontes, an industrial town in Coruña where he grew up "without artistic stimuli ". He studied Audiovisual Communication and Graphic Design and there he came across his vocation. He gave himself up to photography when he discovered that "he combined the loneliest plastic part with a much more political one, which allowed him to live a real experience." Since then, he has used the camera to bypass the "structural separations" imposed by society and connect with the subjects he immortalizes.
Ribeira does not choose the themes in a calculated way. Some jobs lead to others. When something attracts him and he decides to prepare a project about a group or a specific territory, he begins by spending a long time without shooting his camera, sharing the space with the protagonists. He was still a student when he published Noises in the blood (2015), on the Jamaican ritual of dancehall . In what was his first success, he learned that his thing was not to stand in a corner , observe and document a scene.
Ribeira tries to capture his own "culture clash" with the realities that are put shot your target and then the connection that emerges. With that philosophy, other works arrived such as Aristocrats (2016), about a congregation of nuns who care for disabled women; The jungle (2019), on the border between Mexico and the United States, and The Lucky ones (2020), in Melilla.
Ribeira likes "bad" photos, the ones that others they would discard because they break convention. "Sometimes my mobile appears in the middle, my notes, my bags … Some people go and put it away when I'm taking the photos or, when they see them later, they say: 'Oh, what a pity that is in the middle.' I've learned to want that to be there. It is a form of annoying ". He sees his gaze highly influenced by Galicia, drenched in "rebellion and the desire to question and not accept what is given."
Currently, he is preparing a project on young people and the "hostile, precarious and polarized" world with which they will have to deal. He is interested in "how they think, how they look", he wants to "read between the lines their expressions through the networks or music". "Let's see how they save themselves!", He sighs.