Technology
Madrid ask Sánchez for a perimeter closure for days for the bridge or there will be no limit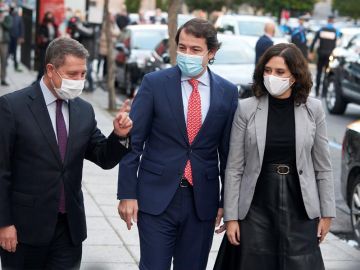 Updated: Wednesday, October 28, 2020 8:20 PM
Published on: 10/28/2020 8:15 PM
Castilla-La Mancha and Castilla y León have finally chosen to join the closure of the perimeter for the holiday weekend of November 1. A measure that has already been adopted by six autonomous communities (Asturias, Murcia, Navarre, Basque Country, La Rioja and Aragón) to contain mobility during these days, conducive to a getaway, and thus avoid more infections with COVID-19 . The measure will last until November 9 in the case of Castilla y León and Castilla-La Mancha.
However, Madrid chose to communicate first with the Prime Minister, Pedro Sánchez, to ask that the autonomous communities can confine "for days".
The presidents of the three neighboring regions met in Ávila, along with the health advisers and their respective teams, to jointly assess the decree on the boundaries of the perimeter. The initial proposal came from the hand of Emiliano García-Page, president of Castilla-La Mancha, who asked that the closure of the 14-day perimeter be coordinated. After the meeting, García-Page appreciated the "ease of understanding" of the three presidents and said he would rather err on the "cautious" side and take strict action than not. In addition, he warned that the closure of the perimeter will last "until the day that allows the state of alarm", and that if it was extended, then the closure would last 14 days.
The President of the Community of Madrid, Isabel Díaz Ayuso, came to the meeting with another idea, stressing that "as the virus is" the Community could remain open. The position of the region's vice president, Ignacio Aguado, was starkly opposite, openly calling for closure.
After the meeting, Ayuso again defended the "Madrid plan" to contain the pandemic, particularly the closures of basic health zones. "Madrid are welcoming and supportive and have been treated as a plague, promoting 'madrileñophobia". We have suffered a lot from the closure of Madrid without any kind of dialogue, "he said.
Castilla y León recommends "intelligent self-containment"
Alfonso Fernández Mañueco, president of the Junta de Castilla y León, argued that "it would be a mistake" to take this decision "behind Madrid's back". "We are working with a clear objective. The virus understands neither the borders nor the political colors, we want to bet on the addition and the protection of the people", he underlined, evaluating positively the meeting between autonomies. In addition, Mañueco recommended to the population of his region "intelligent self-containment: leave only the essentials of the house, move for basic needs".