Technology
Madrid limits family and social gatherings in public and private spaces between 00:00 and 06:00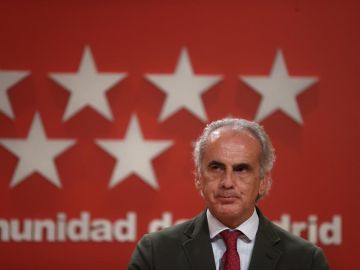 Updated: Friday, October 23, 2020 12:03 PM
Published on: 10/23/2020 11:26
The Community of Madrid will limit family and social gatherings, both in public and private spaces, between midnight and 6 a.m., except in cases of cohabitation.
This was indicated on Friday by the Minister of Health, Enrique Ruiz Escudero, who announced new measures "focused on the drastic restriction of social activity, especially at night".
The ban on nocturnal meetings will apply throughout the territory of the Community of Madrid. For the rest of the day – Escudero clarified – the restriction of a maximum of six people is maintained, unless they cohabit.
The councilor also announced measures affecting the hotel and restaurant industry throughout the Community. Thus, the bar service is suspended and the capacity is reduced: inside the premises, it is limited to 50%, and outside on the terraces, to 75%. In addition, in banquet halls the capacity is reduced to 50%.
The premises will not be able to open before 06:00 and will have to close at 00:00, not being able to admit customers after 11:00 p.m.
Commercial establishments will also not start their activity before 6 a.m. and will have to close at 10 p.m., with the exception of those providing "essential and non-deferred" services. The capacity in this area remains the same, limited to 75%.
Cinemas, theaters, auditoriums and similar spaces reduce their capacity to 50%, with the exception of multi-purpose multi-purpose rooms which remain at 40%. They must also close at midnight. Likewise, student residences and colleges must close at midnight.
Regarding sports facilities, outdoor ones cannot open before 6 a.m. and must close at midnight. Those indoors, such as gymnasiums, the capacity is reduced to 50% and per group of six people, at the same hours as the open rooms.
Parks and gardens must also close between midnight and 6 a.m. Bookies report gold in the middle and are expected to close at midnight. In funeral facilities and places of worship, the capacity is also reduced to 50%.
All these measures will come into force when the state of alert dissipates, this Saturday, October 24, at 4:47 p.m., as specified by the regional Minister of Health.
Basic confined areas
In addition to these restrictions, which are applicable throughout the Community, the adviser announced others which will be imposed from Monday only in the basic health zones with the highest incidence of coronavirus, including their containment perimeter.
There, the exit and entry of people into these areas are restricted, except when traveling to work, health or education centers, to return to their usual place of residence or to provide assistance and care to people. the elderly, minors or dependents.
Road traffic through these areas is permitted, provided that it originates and ends outside of them. People residing in these territorial areas can circulate there always respecting the sanitary measures.
Catering establishments in these areas will limit capacity to half both indoors and outdoors and consumption in bars is not permitted. New customers will not be admitted after 11:00 p.m. and will have to close at midnight (as in the rest of the Community).
Commercial premises will also have a capacity limited to 50% and will have to close at 10 p.m., except for essential establishments such as pharmacies or doctors.
In these basic health zones, attendance at places of worship cannot exceed one third of their capacity and there can only be 15 people in the open air, 10 in the case of those in closed places.
In these areas, academies, driving schools and private non-regulated educational centers will limit their capacity to 50%, while in sports facilities it is reduced to 50% in those indoors and 60% in those outside. In addition, in these areas, play areas for public use are closed.