Technology
Madrid today launches the "COVID card" What is it and what is it for?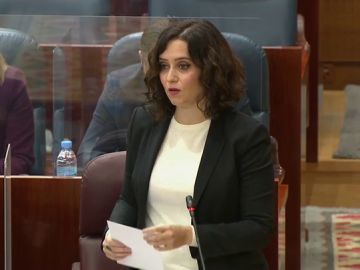 Publication: Monday, December 14, 2020 06:31
Madrid is launching the COVID card and from today this new virtual health card will collect information on patients' coronavirus tests.
How it works?
The so-called "COVID card" integrates clinical information via mobile phone with the virtual health card; It is carried out by "emptying onto the virtual health card" of the diagnostic data of the patient who has undergone these tests, both in the public health system and in private laboratories.
Why is it?
It will allow patients to access all their diagnostic tests related to coronaviruses, from PCR to antigen and seroprevalence tests, and to have information, validated by Public Health, on how to act, which they have a positive result or not.
The card can also be used in the future to include the results of antigen tests performed in pharmacies, if the regional government succeeds in implementing its plan for these establishments to perform these tests.
How did you get it?
This virtual service has been available for phones and tablets for almost six months and can be obtained by downloading from Android and iOS stores.
It is activated by a QR code obtained, or by calling the free telephone number 900 102 112 which, after validation of the patient's identity, will provide an activation code by SMS; or in the health centers of the Community of Madrid.
Who can request it?
The COVID card has the same uses as the physical card and is available for people over 16 years old, in addition to integrating services already provided such as CoronaMadrid and Cita Móvil, it allows citizens to identify themselves in the centers health or offices. pharmacy when you collect your prescription drugs by electronic prescription.
Not recommended by WHO
The basic idea of ​​the "Covid guide" and other types of "immunity certificates" is not new, it appeared already at the start of the pandemic and has been revamped by various countries like Germany and Israel . However, it was not applied in any country because it was considered an unstable system.
The World Health Organization (WHO) advised against its implementation at the time. He explains the problems that "false positives" and "false negatives" could pose, and indicates that in the time that elapses between the end of the test and the time the card is used, the cardholder could have been infected and infect others.
The agency also recalled that "we do not have sufficient evidence" on the disease to implement measures of this type safely.
According to the explanation of the president Isabel Díaz, the objective of this new function of the card is to "facilitate the life" of the citizens with the history of their ordeals "because, from now on, they must take it with them in different situations ".
When she announced it in July, the president of the Community went so far as to say that the objective is "to demonstrate who at this time cannot infect or be infected" and can return to a "certain normality" , in order to "avoid confinement", and that these people can access gymnasiums, museums, cinemas or any enclosed space and can "continue their normal life".
Is it discriminatory, is it legal?
However, some epidemiologists believe that this document can generate situations of social injustice, knowing that not all citizens can undergo free PCR tests if they are not suspected of having been infected. Some tests that can be done in private centers.
In addition, some lawyers question its legality. "This violates a person's privacy and generates a situation of discrimination which, depending on the state of health, will not allow you to enter certain spaces," Eva Madrid, of Activo Abogados, told laSexta.