Technology
"Many citizens did not understand it and they are right"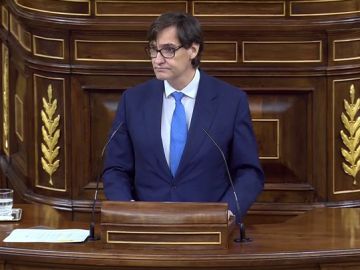 Publication: Wednesday, October 28, 2020 10:58
"Many citizens have not understood this and I want to tell them that they are right." This is how Salvador Illa spoke on Wednesday during the government's control session in Congress, where he sang the "mea culpa" for his participation in the anniversary ceremony of El Español.
After the controversy aroused, the Minister of Health wanted to begin his intervention from the rostrum by giving explanations about his presence at this award ceremony, which was attended by members of the Government and political representatives of the opposition.
"I was, like many others. In my case, I was only in institutional representation for the time strictly necessary to house one of the winners of the pandemic, the Armed Forces, which did such a good job. After the award ceremony, I left. I did not stay for dinner, "he said.
So, although he stressed that health regulations were respected against the coronavirus, the minister admitted that the citizens who criticized him "are right".
"Many citizens did not understand this and I want to tell them that they are right. It is true that the rules were respected and that the distances were respected, but they are right. Note that even in the acts, even in these cases, where everything is met the requirements, it is better to avoid them, "admitted the camera.
"The best path is just one: the best distance is not to be," added the Minister of Health, who stressed that "we must all be guided by this path, because the citizens are right".
Almeida also does "self-criticism"
The mayor of Madrid, José Luis Martínez-Almeida, also made a "self-criticism" for his participation in the El Español event. "We must not only ensure that the measures are respected, we must also guarantee the exemplary nature", he admitted, during a visit to the district of Chamartín.
"We should have thought about whether, in addition to complying with the regulations, we were sending the appropriate message to society," admitted the capital's first mayor.
We gave a very bad image "
For his part, Edmundo Bal, another of those present at the awards ceremony, "fully" subscribed to Illa's words during an interview this Wednesday on Al Rojo Vivo.
"I was there as a member of Parliament, so I was working there," he explained. "Then it was sold as if it was a party: it was not a party, it was an act of institutional representation in homage to the armed forces," he said.
However, the member for the Orange party agreed with the minister that "the citizens are right". "We gave a very bad image – admitted – We must avoid these formats and images of deputies, people who are public representatives, because they are equivocal."