Technology
Montero defends "effort" to consolidate investiture bloc with PGE but asks ERC not to go to Cs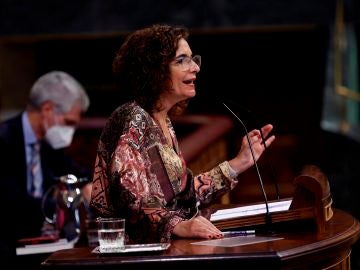 Updated: Thursday, November 12, 2020 1:51 PM
Published on: 11.12.2020 13:20
Congress overturned amendments that various parties submitted to general state budgets, so that their processing continues.
The government insists on its position to carry out the accounts with the bloc that supported the investiture of Pedro Sánchez, but does not exclude Ciudadanos from entering the equation. This is what the spokesperson for the executive and the Minister of Finance said in her speeches in the lower house.
It is the second day that María Jesús Montero defends the proposal of the coalition executive before the amendments, insisting that they "are making a significant effort" to reach an agreement with the progressive forces.
"This government is making a major effort to consolidate the Sánchez investiture bloc. You know this because we have transferred it several times", he told Gabriel Rufián, whom he called for a vote. in favor of budgets ". because they are votable."
Montero defends "moment requires consensus" and asks not to talk about "compact blocks" in negotiations
Although, the government spokeswoman believes that does not imply that the Orange formation cannot close the deal. In this sense, he considers that no party should look at what the rest of the parties vote to decide on a position because, in his opinion, everyone can see in the accounts something that leads them to vote for.
A message that Inés Arrimadas does not share. The leader of Ciudadanos once again urged the government to "choose" between his training or Esquerra Republicana and EH Bildu. "Here is an outstretched hand. If they don't take it and go for ERC or Bildu, they can never say they had no other option," he told Congress.
But for Montero, this option is not valid because "the moment requires consensus" and it cannot be negotiated with "compact blocks". He also reminded Inés Arrimadas that the government "did not ask" citizens "to break governments to reach an agreement on budgets".
Bildu asks to go "much further" with the accounts
EH Bildu spokesperson in Congress Óskar Matute admitted they were "willing to participate", as Otegi announced yesterday, but believes the state accounts "should go much further and in the opposite direction that what They would like PP, Vox and Ciudadanos ".
He believes that we must repeal the labor reform, collect more taxes from those who "have more", make a better "distribution of wealth" and improve in the fields of education and health. "Decision by decision, we are going to dismantle the scaffolding of privilege of the elites," he said after announcing that they would vote "no on the amendments because it all starts today".
"These general state budgets do not overturn the roots of the neoliberal model, but we believe that they can be a tool, an opportunity to make policies that leave no one behind. We care more about what than who ", he said in this regard. . Likewise, he added that his word "is worth more than the zigzags of a formation which now wishes to present itself as moderate", referring to Ciudadanos.
In light of these words, Montero thanked his support for the government's proposal and acknowledged that "with this project, the policies promoted by the PP, such as labor reform, are not reversed2, but he remembers that they have four years in advance to continue working on this topic online.
Casado believes that these EMPs "lead us to austerity"
The seven amendments in total which had been presented by PP, Vox, four MPs from JxCat, BNG, Canary Coalition, CUP and Asturias Forum did not come out with 198 votes against and 150 for.
Something which for Pablo Casado is bad news because, in his opinion, they were the amendments of the "Bank of Spain, European institutions and businessmen". "There is a clamor against these budgets, which leads us to an imminent austerity", he declared while leaving the hemicycle.
He also referred to one of Óskar Matute's interventions, in which he stressed that it "has only just begun". "What does he mean by that? Sánchez must give explanations out of respect for his own party and the victims of terrorism. This is how he cannot govern a country," said the opposition leader.