Technology
More nurses have already died of covid than those who died in World War I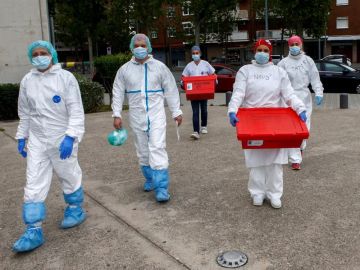 Although it is not yet a year since this pandemic first broke, the same number of nurses have already died from covid as during World War I. "In this group, 1,500 nurses have died around the world. In Spain, there were seven," said José Luis Cobos, secretary general of the General Nursing Council.
The study analyzed data from 44 countries, or less than a quarter of all the territories on the planet. "There are countries that also do not have the capacity to collect this information. This makes this figure an underestimate of the real figure," said José Luis Cobos. The nurses union estimates that more than 70,000 nurses could have been in contact with the virus in our country.
"There was a time at the start of the pandemic when health professionals were not tested. The numbers may be higher than what the data says," said Jesús García Ramos, spokesperson for the union of SATSE nurses in Madrid. He acknowledges that with his colleagues "they had to be creative", pulling out "shower caps, raincoats or trash bags" to create their own PPE.
It was a real avalanche of patients, who died "
García Ramos denounces that the first moments of the pandemic in Spain were an uncontrolled avalanche: "We thought that we would have protective equipment and a system or an emergency plan. But we noticed that no, it was a real avalanche of patients, that they died, that we did not know how to treat them ".
Lack of protection and information, as noted, were two of the factors that caused a high number of infections among healthcare professionals in the first wave. More than seven months later, the situation in the centers has improved, but not to the level expected by professionals. "We have more PPE than before, but the contingency plans were not executed properly," lamented the SATSE spokesperson in Madrid.
In this sense, he continued: "They are rationing us the very effective masks, the FFPP2. This is something we do not understand and can cause new infections in professionals." In the past 14 days, around 5,500 toilets have been infected. The total figure in our country already exceeds 74,000 positives in this group, of which 63 doctors, 7 nurses and 21 pharmacists have died as a result of covid.