Technology
More than seven million Spaniards, confined area due to increase in infections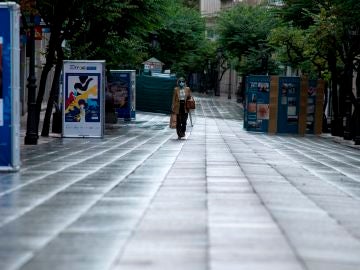 Updated: Friday, October 23, 2020 2:11 PM
Published on: 10/23/2020 9:32 AM
More than seven million Spaniards are confined to their communities due to the increase in coronavirus cases. More precisely, there are 7,591,052 inhabitants who can only leave their city to go to work or to an educational center, to receive health care, to take care of the elderly and / or dependents or to other causes of force majeure.
The incidence of coronavirus cases per 100,000 inhabitants, whose Spanish average is over 300, has skyrocketed. This has led several autonomous communities to put in place severe restrictions, such as perimeter limits, in some of their municipalities.
Then, we detail the autonomies which have opted for this type of health measures, as well as the municipalities which have restricted entries and exits.
Galicia
La Xunta de Galicia announced that the entire community has been backing down to level 2 restrictions since Thursday, which means reducing the capacity of bars and restaurants and limiting social gatherings to five people, in some areas only allowed to cohabitants. .
The containment of the perimeter which so far affects 134,048 inhabitants, the majority in the capital Ourense and Barbados, as well as O Carballiño, O Irixo and Boborás. It will also be extended to the inhabitants of Verín, Oimbra and Vilardevós, in the same province.
Navarre
The government of María Chivite has decided to completely confine the Foral Community of Navarre from October 22. Here, 649,946 residents were affected.
The regional executive has also ordered the closure of all hotels, bars and restaurants, while the rest of the shops are to close at 9:00 p.m., as well as facilities for sports and cultural activities. In addition, meetings were limited to the family or coexistence unit.
La Rioja
This region, like Navarre, has also decided to completely confine itself. 315,675 inhabitants can only leave the community in the event of force majeure. This perimeter lockdown begins today and will end on November 7.
All establishments must close before 9:00 p.m. with the exception of pharmacies, supermarkets, theatrical and film activities, and essential goods and services establishments.
Aragon
The government of Aragon has decreed the confinement of the perimeter of its three provincial capitals: Huesca, Zaragoza and Teruel. In the next two weeks, its 1,242,688 inhabitants will only be able to leave the aforementioned municipalities to go to work, an educational center, a health center or other duly accredited causes of force majeure.
In addition, from next Monday, establishments across the region will suffer from limited capacity and hours.
Castile and Leon
This community has confined municipalities in several of its provinces. The last affected localities were Aranda de Duero, in Burgos, and the capital of Burgos. These perimeter limits are in addition to those decreed in the cities of Salamanca, León and Palencia, as well as Miranda de Ebro, San Andrés del Rabanedo and San Pedro de Latarce. A total of 646,838 inhabitants live with these restrictions.
Likewise, attendance at places of worship may not exceed one third of their capacity and attendance at vigils is limited to a maximum of fifteen people in the open air or ten in closed spaces, whether they live together or not. All establishments, commercial premises and services open to the public may not exceed 50% of the authorized capacity and bars may not receive customers after 10 p.m.
Madrid
From this Saturday, when the state of alert declines, the Community of Madrid will see its restrictions modified. If the Ministry of Health has applied the restrictions by the municipalities, the government of Díaz Ayuso will do so by basic health zones from this Monday. Currently in this region there are 4,476,350 people confined to the perimeter. Specifically, the inhabitants of the city of Madrid, Alcobendas, Alcorcón, Getafe, Leganés, Fuenlabrada, Parla, Torrejón de Ardoz and Móstoles.
Extremadura
The Junta de Extremadura has restricted entry and exit from Jarandilla de la Vera, Cabezuela del Valle, Jerte and Tornavacas (all in Cáceres), as well as the municipalities of Badajoz de La Roca de la Sierra and Usagre. A total of 11,385 people from Extremadura have been affected by these restrictions. In addition, it has adopted capacity control measures at eleven other sites.
Andalusia
The government of Juanma Moreno ordered the confinement of the perimeter of the municipalities of Écija (Seville), Almodóvar del Río (Cordoba) and Linares (Jaén). With these three sites, 109,422 residents can only leave these places for duly justified reasons of force majeure.
In addition, in Granada and in the 32 municipalities of its metropolitan area, bars and shops must close at 10 p.m. and their capacity has been reduced to 50% and a maximum of 6 people per table. Markets and public parks have also been closed.
Murcia
At present, the region of Murcia is confined to a perimeter of 40,000 people, distributed among the municipalities of Totana, Fortuna and Abanilla. For their part, the towns of Jumilla and Lorca have already abandoned these restrictions.