Technology
New " fake " video attacks Equality Minister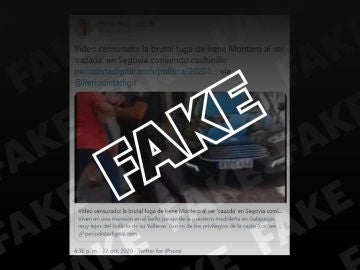 Posted: Saturday October 24 2020 15:16
We warn you against the following headline: "Censored video: the brutal escape of Irene Montero while she was" hunted "in Segovia eating suckling pig". If you see this news spreading on the Internet, don't grab it to read it: know it's a hoax. Neither Irene Montero appears in the pictures, nor the minister came out of a party in Segovia.
It's not even a censored video. It is "fake news" that Irene Montero herself and "Newtral" dismantled, a portal that has investigated the origin and content of this information. The video does not show the Minister for Equality, but rather Minister Yolanda Díaz, and she was not in Zaragoza either.
In reality, what is brought together in these images is the departure of the head of the portfolio of works of the City Council of Toledo, where an act took place that took place on July 24. Already in the street, Yolanda Díaz was reprimanded and seriously insulted by a group of workers linked to the world of bullfighting.
They addressed their protests to the minister when they felt discriminated against for not being included in special assistance for public performing artists due to the COVID-19 pandemic. Through Twitter, Montero denounced the hoax. "He is no exception: lying is his modus operandi," lamented the minister in a tweet that Díaz retweeted.