Technology
Paquita Martín, the voice of pensioners who defended the people's struggle for their rights, dies at 95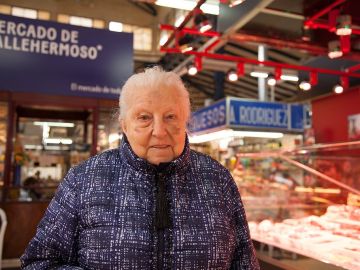 Posted: Sunday, November 8, 2020 12:53 PM
"Let the people wake up, you have to fight, you have to fight and you have to fight!" It was one of the firm and vindictive phrases that accompanied Paquita Martín (1925), a tireless fighter for the rights and freedoms of those most affected, until the end of her days. He passed away this Sunday at the age of 95, but he leaves behind a full legacy of mobilizations and protests to protect and improve the lives of those who need it most.
Especially that of retirees, who have expressed their indignation in denouncing the lack of solutions to the critical situation that their pensions were going through. Paquita became the late voice of a generation, his own, which did not want to accept more indifference and inaction on the part of institutions. "I'm fed up with stories and milongas when I'm almost 93," she answered when asked about Rajoy's proposals for retirees.
She was clear and concise when she could: she didn't want words, she wanted facts. He rejected the fact that the country's high command, those he denounced and claimed from his youth, wanted "to put an end to all old people and not have to pay pensions", even if they could not find a solution. . With the same firmness, he came to tell Celia Villalobos, then coordinator of the Pact of Toledo Commission, that it was her fault that she did not die. And he was right.
Paquita, a tireless fighter, knew that retirees were not the only problem our country suffered. "They are destroying Spain, and not just with pensions." She was sure of it and pointed out another of the great scourges of this problem: gender inequality. She rightly wondered "why should women have a lower pension than men?" Her complaint went further: "Women continue to be marginalized and we must strive to achieve equality with men."
Paquita asked politicians for more shame and less talking to settle the many outstanding scores this country had with theirs, but he also asked his people, from whom he demanded more outrage, more protest, more of street; more fight and action so that their rights and freedoms are not violated: "Let's see if the young people find out that it is very bad and that they do not have the right to live like that."
It is precisely to young people that she has repeatedly addressed her messages, weary of the lack of greater intergenerational support for a common cause. "They are the future, if we have a future," he warns, while affirming that he was not fighting only for her; also, "for the young people who come after". And for that, he went to all the mobilizations and demonstrations that there have been, or "where appropriate". Because Paquita was clear on one thing: you can't be happy to see another's needs and just sit idly by.
"In this life, everything has been achieved by fighting, from the ancient times of slaves until today, but not all who should be mobilized are mobilized. Because, he said, in this city that is Spain "few protests" against the crisis that only a few have known. His vindictive message resonated in the streets and social networks of Spain for its clarity: "Let the people wake up, we must fight, we must fight and we must fight!"
And she remembered, when her face became popular among TV and radio gatherings, between interviews and past signings, that she was "neither Paquita the activist nor Superpaquita". She was just "a woman of the people". Finally, something else: "Major, but no asshole." And he invited us to always be vigilant so as not to see our rights violated: "They are trying to deceive us".