Technology
penalties for violation of restrictions and curfews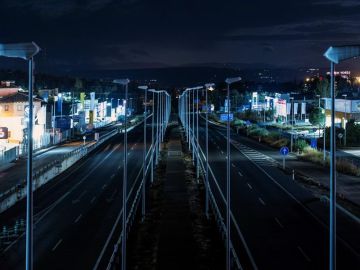 Posted: Monday October 26 2020 12:57 PM
Spain went through its first night with nighttime mobility limitations to stop coronavirus infections, with the exception of the Canary Islands, the only region that was exempt from this measure.
If the state of alert decreed by the government limits freedom of movement between 11 p.m. and 6 a.m., it in turn empowers the autonomous communities to adjust the hours of curfew in their respective territorial areas.
Thus, the curfew can start between 10 p.m. and midnight and end between 5 a.m. and 7 a.m., depending on the autonomy (you can consult the schedule in each region here).
But what penalties will be applied to those who break the curfew? This is what we know for now.
What does the decree say about the state of alarm?
The sanctioning regime of the decree establishing this new state of alert indicates that "failure to comply with the content of this royal decree or resistance to the orders of the competent authorities will be sanctioned in accordance with the laws", in the terms established by Article 10 of the law on states of alert, emergency and siege.
In this regard, it should be recalled that after the proclamation of the previous state of alert in the spring, the Interior Ministry sent government delegations a document containing proposals and instructions on sanctions for those who violate detention. .
This document included fines ranging from 601 euros for unauthorized travel to 10,400 euros for anyone organizing or participating in parties or celebrations.
Catalonia: fines of 300 to 6,000 euros
Government spokeswoman Meritxell Budó warned that anyone who breaks the curfew will be punished from Monday and that agents will monitor compliance with the measure. In this sense, Budó stressed that it was a "drastic" measure and called for "to make it last as long as possible together".
For his part, Eduard Sallent, chief commissioner of the Mossos d'Esquadra, said the sanctions range from 300 euros – in the case of people walking in the street without justification – to 6,000 euros. On the night of Sunday to Monday, 101 people and 10 vehicles were identified, with 31 checkpoints.
Navarre
For its part, the BOE has published the sanctions regime in the event of non-compliance with measures against COVID-19 in Navarre. Thus, fines of between 60,001 and 600,000 euros are envisaged for very serious offenses; between 3,001 and 60,000 for the serious ones, and between 100 and 3,000 for the light ones.