Technology
People hospitalized with coronavirus rise for the first time in nearly a month with a week before Christmas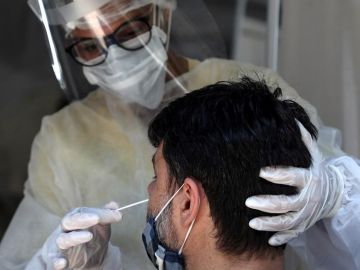 Updated: Monday, December 14, 2020 7:10 PM
Published on: 12/14/2020 6:38 PM
The Ministry of Health adds 21,309 new COVID-19 infections over the weekend (since last Friday) to official figures that reflect the evolution of the coronavirus pandemic in Spain. Of these new cases, 2,448 were recorded in the last 24 hours. Health also added 389 new deaths to its data, bringing the number of deaths last week from the coronavirus to 646.
Thus, the cumulative incidence of coronavirus cases per 100,000 inhabitants again stands at 193 infections, reaching more than 250 cases in the Balearics and the Basque Country. Already last Friday, it suffered the first rebound recorded in the cumulative incidence since the beginning of November.
The number of hospitalized patients with coronavirus also increased for the first time in a month. The pressure in the department increased by 9.6%, while the pressure of occupancy of ICU beds by patients with coronavirus is 21.68%.
The death toll from COVID-19 since the start of the pandemic in Spain stands at 48,013 with these latest data recorded, and that of people infected with the disease, confirmed by a PCR test, stands at 1,751 . 884.
Faced with this situation, Health has argued that it does not rule out taking more restrictive measures for Christmas. "We must be careful when evaluating these data, we must see what happens with the real effect of the Constitution Bridge", argued the director of the Center for the Coordination of Health Alerts and Emergencies, Fernando Simón . It depends on how the COVID-19 incidence curve changes in the coming days.
In this sense, Simón explained that "the higher the incidence, the more likely it is that a person can be infected even with the vaccine in place". Therefore, he asks to remain firm on individual protection measures: "The fact that some very drastic measures are relaxed does not imply that we must relax those that concern each of us. It is not a question of prohibitions, it is of reasoning. If there are viruses, we must protect ourselves, "also stressed the spokesperson for Health.
January with vaccinations
Health Minister Salvador Illa is hoping COVID vaccines will arrive in Spain on January 4 so that they can start vaccinating in the middle of the month.
With a reassuring message, Illa reminded everyone that no autonomous community will run out of doses. "There will be more than enough vaccines. But not all will arrive on January 4 or 5, they will arrive gradually and as they are made," added Illa, who insists that "all the autonomous communities will gradually receive the vaccines ".