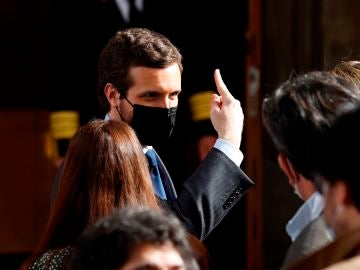 Publication: Saturday November 14, 2020 2:53 PM
The president of the PP, Pablo Casado, affirmed that this party must be "the common home" of all those who oppose "the moral indignity" which supposes the pact of the president of the Spanish government, Pedro Sánchez, with Bildu. what the PP must put itself "at the service of all" and become "a safe roof" for those who reject these agreements, the last to approve the Budgets of Navarre.
Casado closed, at the headquarters of PP Zaragoza, the 17th Extraordinary Provincial Congress of this party, in which the regional deputy, Ramón Celma, was elected president, whom he congratulated.
The PP leader asserted that Sánchez "should not do more tightrope walkers" and should "say whether he renounces the center or the extremes" since the debate in Spain is now "between extremists and moderates, radicals and democrats, populists and constitutionalists. ", adding that" in this part which is the right one, we are not only the militants and the voters of the PP ", but" there are many more ", although" we are alone as a political proposition ".
He explicitly addressed the PSOE to assert that "Pedro Sánchez has put an end to constitutional socialism, this historic socialism which made the transition", recalling that several socialist leaders have criticized Sánchez's agreements with Bildu. "With all due respect to this socialism which continues to exist, it is asked to continue to assume its historic responsibility" to "build a country not with clubs, but where we can agree".
Podemos eats the PSOE "
"That is why we are going to put the project at the service of all, open ourselves to society and say that here they have a safe roof to continue building a better Spain" and "forge alliances with those who believe in fundamental rights and public freedoms ", Pablo Casado advanced, who clearly indicated that" our responsibility is to widen this space of moderation to return to the government as soon as possible and to represent again a majority of Spaniards ".
He recalled that this Friday he declared in Barcelona that "We can eat the PSOE" to add, this Saturday in Zaragoza, that "it is happening because Sánchez wants it", since "the chef of Iglesias is Sánchez, who decided to put Iglesias as vice president unnecessarily, because he had other possibilities. "
"Sánchez doesn't agree with who he can, but with whom he wants"
In this way, Pedro Sánchez "does not make the budgets that he can or has no choice but to do, he does not agree with what he is obliged to do because he has no alternative ", but" he makes an agreement with whomever he wants because he has an idea of ​​Spain which is not approved in the EU ".
"I do not know in the EU another vice-president who defends Latin American dictatorships, nor a government which relies on a party which justifies a political assassination, like Bildu, nor any other EU government where parties that want to break national unity are decisive, not only in budgets, but in education, and allow themselves to exclude the common language as a vehicle; this happens because Sánchez wants it ".
In this context, "we must have the patriotism, the magnanimity and the responsibility to open our doors to others who sometimes did not feel represented by the PP", so that "the PP is the common home from the whole constitutionalism, from the moderates and the centrists, "from those who are against Bildu and from those who believe that the transition" has been the best we have done together ", from those who" do not want to be divided ", who do not want politicians to put their ideas "against life".
"Sánchez crossed the black line"
For Pablo Casado, with the negotiation of the General State Budget (PGE), "Sánchez has crossed the black line". He demanded that "at least they tell us the truth", adding that "someone will have to explain why Bildu says it all begins".
He pointed out that Pedro Sánchez announced the budgetary pact with Bildu on the same day that the central executive brought the murderers of the Becerril couple from Seville to prisons closer to the Basque Country, stressing that the terrorists have not repented and that 'they toasted with champagne when this happened. .
He recalled that the terrorist group ETA had assassinated the PP senator Manuel Giménez Abad 20 years ago in Zaragoza. "I ask the government to listen to Borja Giménez – his son -, who saw him, and to explain why an agreement can be reached with a party which did not condemn the murder of his father in Zaragoza", adding that Borja Giménez was "a kid who ran in front of armed men, calling them murderers and risking his life".
Casado wondered "why the government considers that it can be agreed with a party which not only does not condemn it, but which considers it an essential element of its existence against what Spain represents".