Technology
Police link altercations in several cities in Spain with small far-right and far-left groups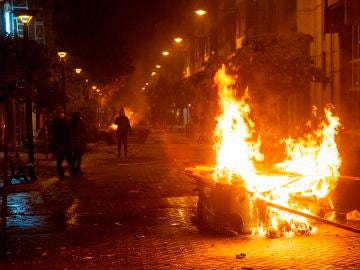 Posted: Sunday, November 1, 2020 2:09 PM
Several cities in Spain have seen two consecutive nights of altercations caused by violent groups of people, moments which have resulted in arrests and injuries.
Police sources confirm to LaSexta that the perpetrators of these altercations are part of small far-right and far-left groups, some linked to football teams.
As of yet, there is no evidence that links the violent to any coordinated or organized action by anyone in particular, but rather they are professional rioters.
Riots in Madrid, Logroño, Malaga …
Madrid has been one of the "hot spots" of these violent protests. On the night of Saturday to Sunday we were able to see footage of containers and fences being burnt in the middle of the Gran Vía to try to close the street.
The night ended with 32 arrests and 12 injured, riots that recurred in various parts of Spain.
In Logroño, seven people were arrested after radicals organized riots with the burning and crossing of containers, the dismantling and looting of shops.
Another detainee and another injured happened in Malaga during a night of altercations; in Santander, four people were arrested.