Technology
Police will control with drones that measures in cemeteries are met on All Saints Day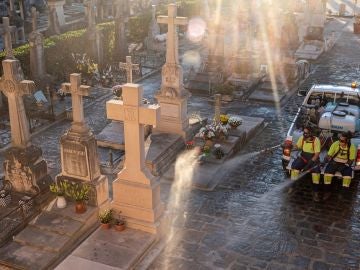 The police will control with drones that there are no crowds in the cemeteries on the occasion of All Saints' Day. In the case of Madrid, around 300 municipal police officers will organize the entry and exit of the capital's main cemeteries and will benefit from the assistance of drones from the Corps.
Due to the influx of people to cemeteries to celebrate all saints, the special device will have a 20% staff increase over the device from the previous year.
This increase in staff is motivated by the current health situation: in addition to regulating vehicle traffic and organizing access for people, special attention will be paid to ensuring that cemetery workers and visitors comply with the rules of basic security. .
In this sense, it will be monitored that there is no crowd of more than six people around the graves and that all participants use the obligatory mask. As a novelty, this year's aircraft will benefit from the participation of the Air Support Section, which will have three light unmanned aircraft (drones) equipped with a video camera and a speaker system.
The hours of access to the main cemeteries will be at the Almudena cemetery from 9:10 a.m. to 8:50 p.m. and at the southern cemetery from 9 a.m. to 6:20 p.m. Madrid's municipal police recommend that you avoid traveling during the central hours of the day, between 11:00 a.m. and 3:00 p.m., when possible, which are usually the busiest.
Within this system, the stalls authorized for the sale of flowers near cemeteries, whether permanent or temporary, will also be inspected, paying particular attention to illegal street sales, because on these dates there is a significant increase in the sale of these products.