Health
Portrait of a responsible consumer
Does 15 years, Marta González- Moro decided to incorporate sustainable habits into his life, to take the first step towards a form of responsible consumption that, at that time, "was seen as something innovative". Recycle and minimize waste, buy only what is necessary, look at product labels to find out their origin and composition, reduce energy use at home, bet on local commerce … As this expert in strategic consulting based on sustainability tells us, "This attitude is understood today as a logical way of living because sustainability means well-being and, who does not want to enjoy that tranquility?", He asks.
The current trend agrees with González -Moor. In recent years, an ethical and committed consumer profile has grown that gives importance to the collective over the individual, tries to be consistent in its decisions and feels co-responsible with its actions, as the study shows Another consumption for a better future , prepared by the Organization of Consumers and Users (OCU) and Global Forum. However, there are still some obstacles, such as the cost associated with sustainable products or the ignorance of other simpler and more affordable options, which prevent you from becoming a conscious and, at the same time, active consumer.
The critical situation facing the planet, and which has recently been endorsed by the report of the UN panel of experts (IPCC), is one of the reasons that explain the growing social awareness of the need to modify consumer habits , but not the only one. "Consumers are concerned about the environmental impact of a production and consumption model that is depleting natural resources and that if this continues it will have catastrophic consequences, but also the socioeconomic impact that it entails," says Enrique García, spokesman for the OCU.
The outbreak of the pandemic has also contributed to this aspect. "We have been able to verify that it is not only about scientific reports that seemed to project a future situation. We have lived in our own flesh the consequences of a bad performance for decades, it is no longer something alien, but it affects us in our daily lives ", explains González-Moro, director and founder of 21 grams, a consultancy that helps companies incorporate sustainability into their business models. "The pandemic has made us rethink our priorities," he adds.
The latest report from Brands with values ​​ – an initiative of 21 grams – on consumption habits after the arrival of the covid – 19 reflects that sustainability has acquired a priority place in the scale of values ​​of the citizens. A 76% of respondents would be willing to pay more for sustainable products.
Household barriers
But despite the willingness and commitment to adopt more sustainable and ethical behaviors in purchases, there are still some barriers that prevent Consumers aware of the change take action. An example of this is what happens in the home itself, that space that is governed by our rules and decisions and "the ideal place to initiate change", as explained by Rufino Hernández, Quality Director at Leroy Merlin, but where it still costs improve sustainability.
Only the 10% of Spaniards have installed the elements that make their home meet sustainability criteria
According to the study Home and sustainability: reality or desire , prepared by the insurance company Mutua de Propietarios and Leroy Merlin, although the 80% of the Spaniards consider that it is important to have a sustainable home, only one 10% has all elements installed those that make your home meet these sustainability criteria. Christopher Bunzl, general director of Grupo Mutua de Propietarios, explains that this low percentage "may be due to the economic situation of families, especially after the two great crises of this century, which prevent them from assuming the cost associated with sustainable options such as, for example, renewable energy systems for self-consumption. "
Another reason is" the ignorance of simple and easily installable solutions or even the positive impact that we achieve with them ", as the director explains of Quality of Leroy Merlin. "It is a question of pedagogy, but sometimes the client also needs you to put numbers on the table: how much water or electricity is going to save with this system and what benefit does it get from all this", he adds.
The power of consumers
What can we do to become empowered consumers? Consumers have great power to influence brands, as González-Moro explains. "From our commercial relationship with them, change can also arise. For example, opting for those companies that are transparent in their processes and that integrate sustainability into their structures ". For the OCU spokesman, this attitude is to reward committed companies and punish those that are no longer working. "We see it in advertising and in the offer, there are more and more sustainable products because brands know that there is a positive response from citizens towards this issue," he points out.
Another step towards that empowerment as consumers is to leave behind the mentality of the twentieth century. "Back then, smart buying was based on value for money. But the smart purchase of the 21st century is quality, price and sustainability ", explains the director of 21 grams. "That is what must be required of brands," he emphasizes.
The EU places special emphasis on ecodesign: products made with materials 100% recycled and can be recycled
For the quality-price-sustainability trinomial to work, institutional efforts are needed to regulate production, as García explains. One of these mechanisms is the circular economy, which seeks to reduce the impact of waste on the environment and promote responsible consumption. "The circular economy is a necessity, we cannot afford the luxury of continuing to produce under that linear model that continuously generates waste", Rufino Hernández points out about this new production scenario in which the consumer has a very active role "because it is called upon to contribute, recycling, repairing and reusing products. "
The Circular Economy Action Plan 2020 of the European Union places special emphasis on ecodesign, with criteria that require products to be made with materials 100% recycled and that, in turn, can also be recycled once their useful life ends. Until this happens, its repair and reuse is promoted. "That right to repair is also an empowerment of citizens," says the OCU spokesperson.
The path to the circular economy
The traditional linear economic model

, based mainly on the concept "use and throw away", has important environmental consequences: it increases the energy consumption, carbon dioxide (CO₂) emissions and waste.
The production of the materials we use daily is responsible for the 45% of CO₂ emissions.
Only in the European Union occur more than 2. 500 million tons of waste per year.
The circular economy encourages the reuse, repair, renewal and recycling of products whenever possible to lengthen their cycle of life.
All appliances and appliances manufactured as of March 1, 2021 must include a repair manual and be able to be repaired with conventional tools, in accordance with the new Circular Economy Plan 2020 from the EU.
In Spain, after the modification of the Consumer Law, the guarantee of the products will be three years from January 1, 2022 and the parts for repair should be available for a decade since the product is no longer manufactured.
Source: European Parliament
Technology and innovation are great allies to turn our homes into sustainable spaces. Thanks to home automation, we can control different parameters of the home such as lights or temperature, and control household appliances and other smart devices such as washing machines, dishwashers, refrigerators or vacuum cleaners for more efficient use. There are also other simple solutions that help reduce water consumption, such as faucets and shower heads, on / off systems for the flow or double flush of the toilet; electricity, such as LED bulbs; insulating materials that improve thermal comfort to reduce the energy demand of the home; or ecological that are not harmful to the environment or our health.
Sustainable consumption is not only what we buy, but how we act, what lifestyle we lead. Going from theory to action requires will, "but once you start, you realize it works; from there you enter a virtuous circle that will help you improve in other aspects of your daily life ", concludes Marta González-Moro.
Sustainable homes Ideas for less water consumption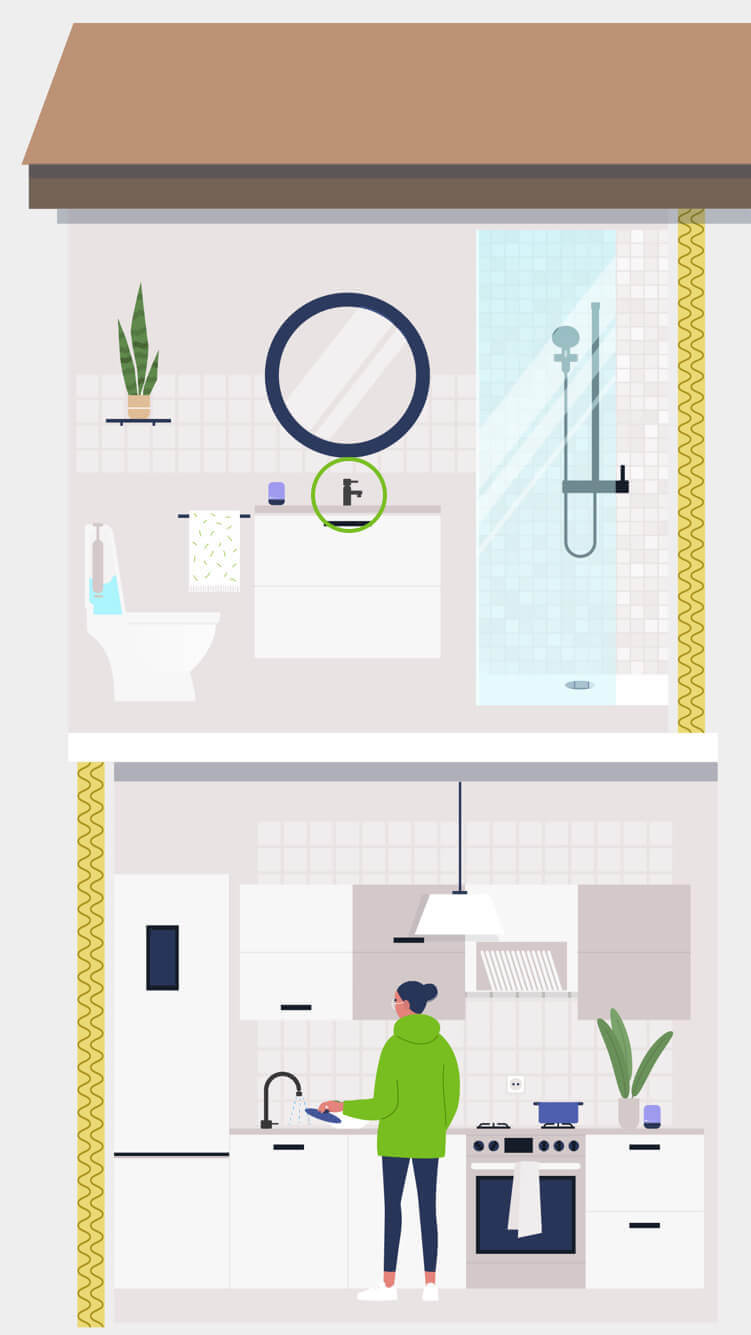 Sustainable homes Ideas for a less water consumption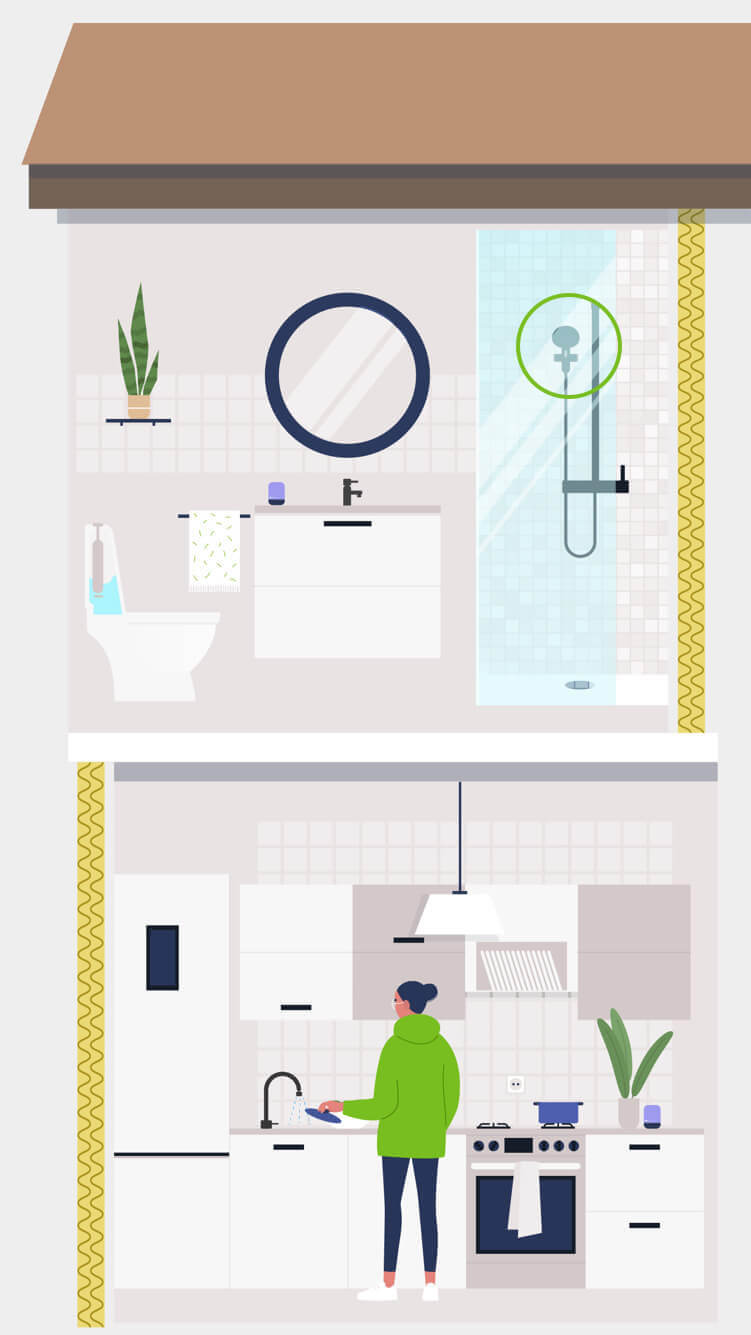 Sustainable homes Ideas for lower water consumption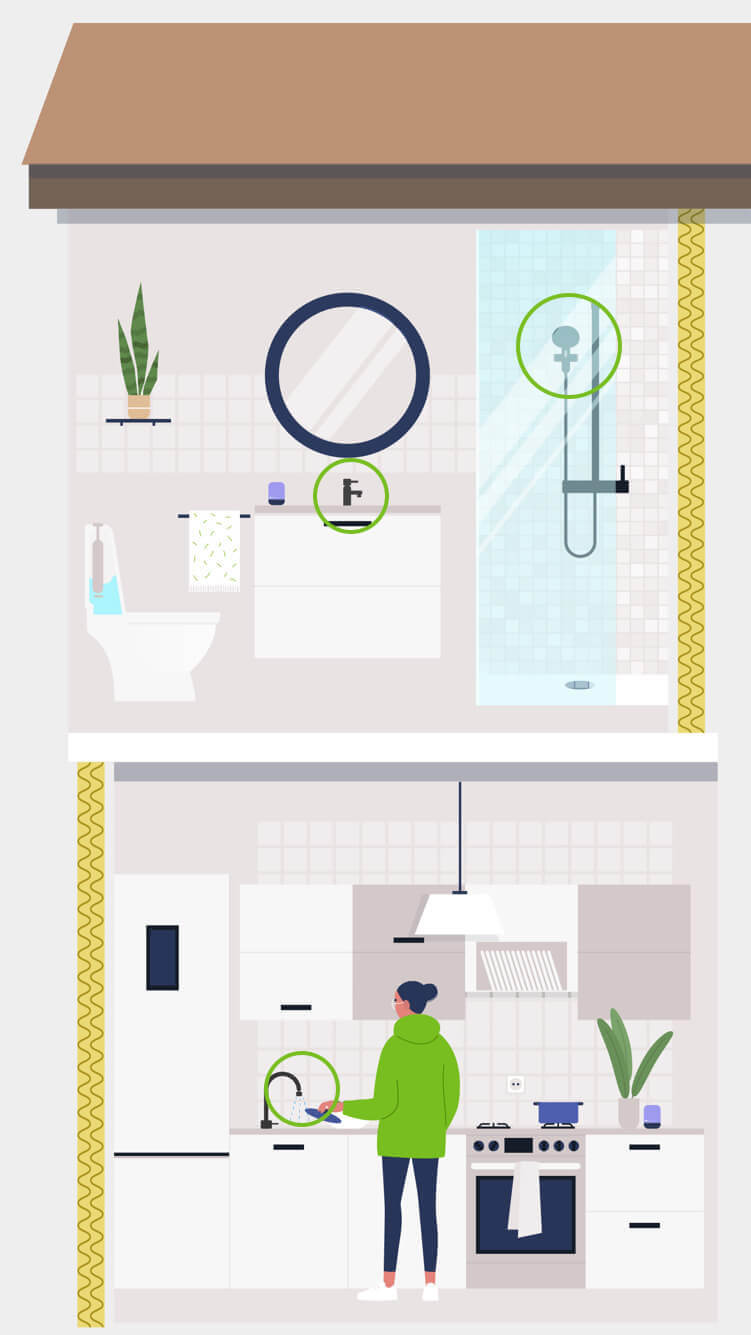 Sustainable households Ideas for less water consumption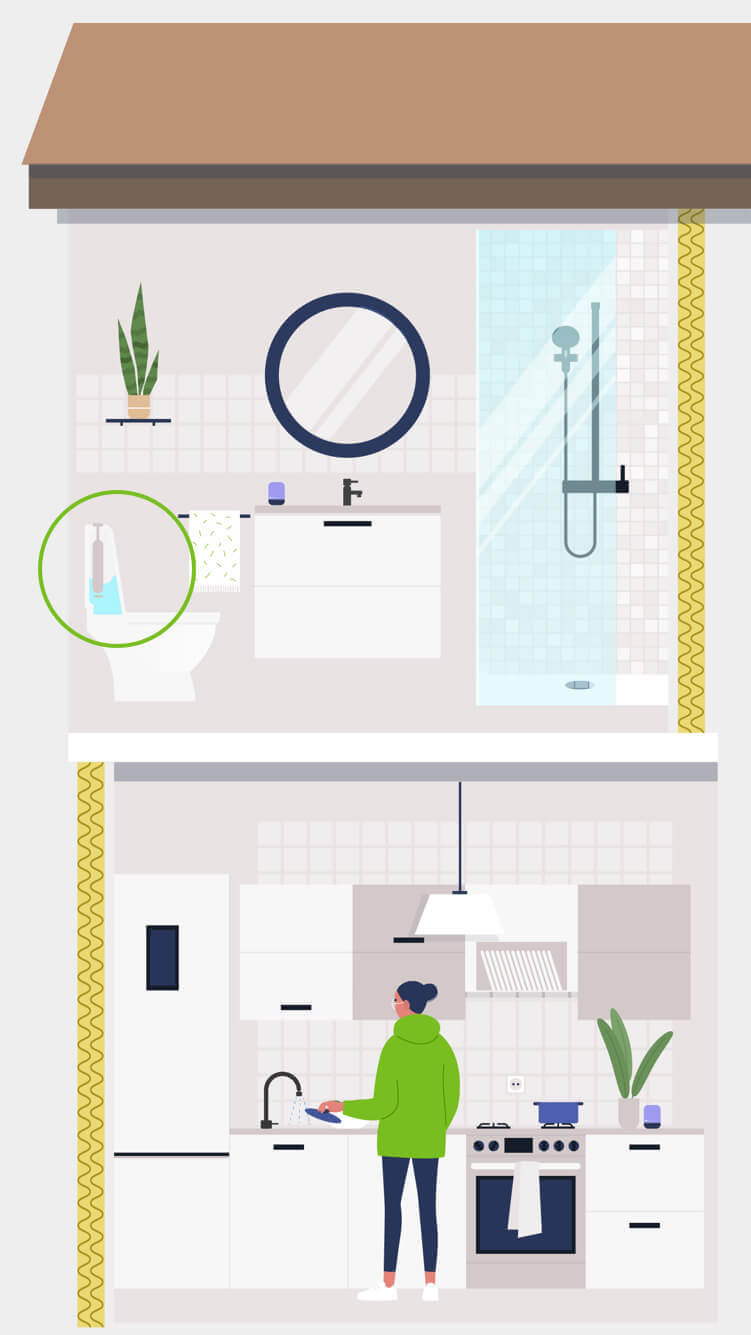 Automatic systems that make it possible to close the tap within two seconds of removing the hand from the sensor.
Faucets and shower heads that maintain the maximum water flow at six liters per minute.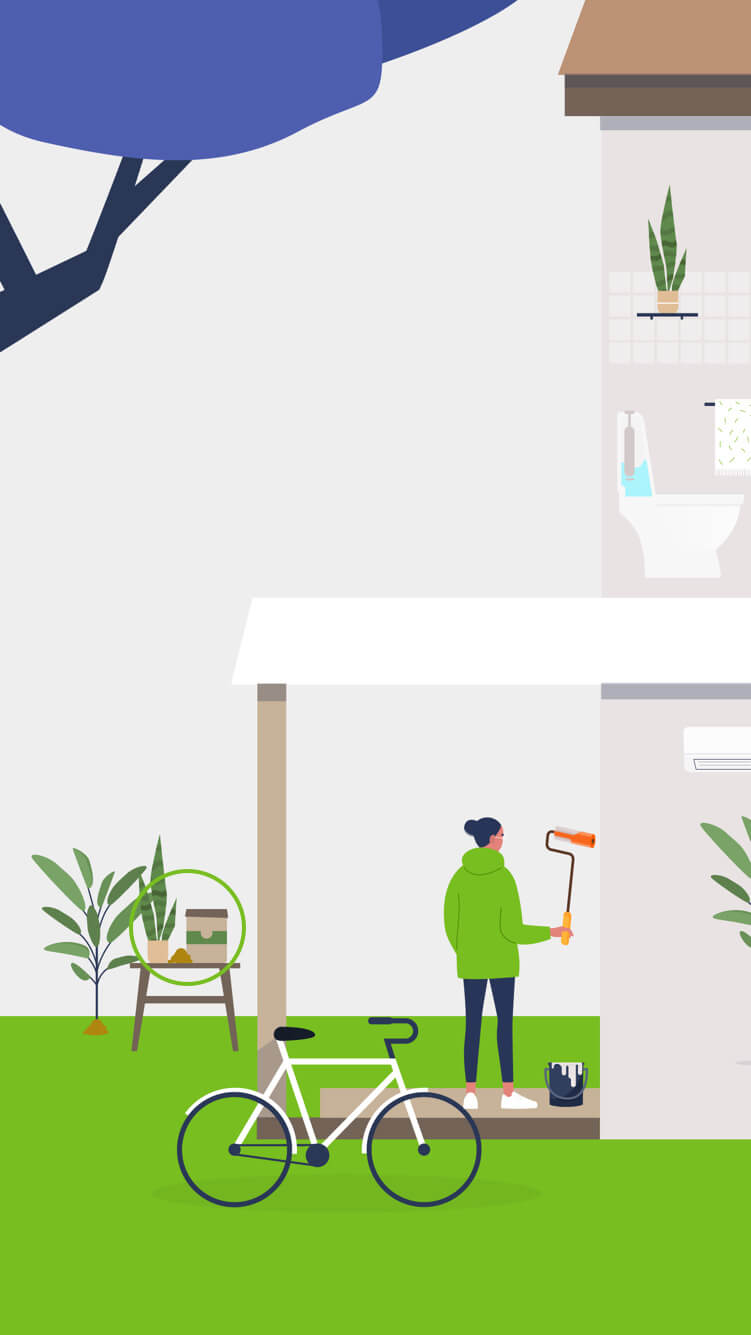 Aerators in the tap and allow savings in water consumption of up to 60%. They mix the water with air, but without losing the sensation of the amount of flow.
Double flush toilet systems that allow saving up to one 70% of water to be able to choose between a total emptying or partial cistern
Flow limiters in the hose (the flexible tube that connects the pipe with the tap) that save a 30% of water.
Mixer taps to control the water mixture on a single lever and avoid wasting water until the desired temperature is reached.
Push-button shower heads' ecostop ' that allows you to stop the flow of water even with the tap on while, for example, you lather.
Insulators made with a 95% of raw material of natural origin that insulates the house and protects it from the temperature and external noise.
The thermal insulation of windows is determined by the material from which it is made, the opening system and the glass. Thermal transmittance (U) is the measurement that determines insulation and is expressed in watts per meter and degree (W / m2k). The lower the index, the better insulation the window will have. The acoustic transmission coefficient (DWA) measures the quality of sound insulation in decibels. The higher the index, the better the insulation against outside noise.
Awnings, blinds, adjustable slats or blinds made of high performance materials against UV radiation, recycled, recyclable and repairable.
Refrigerators, freezers, dishwashers, washing machines or dryers must have a category C energy efficiency or higher.
Ovens, ceramic hobs and extractor hoods with category A ++.
LED bulbs, strips or tubes must be class D or higher.
Ecological paints with low content of volatile organic compounds (VOCs).
Certified wood furniture

or of sustainable origin.
Certified organic fertilizers and fertilizers (for the plants of a balcony, terrace or garden).
HOME AND HEALTH
Conditioning our homes in a sustainable way also has a direct impact on our health, as explained by the architect Daniel Millor Vela, coordinator of Asertos, an Architecture Without Borders program
and the French association Quatorze that seeks to improve people's health through participatory housing and neighborhood development . "Home renovations are usually carried out for aesthetic reasons, but its functionality is seldom considered, especially with regard to our health", ap unta Millor. This is demonstrated by the study Home and sustainability: desire or reality, prepared by the insurance company Mutua de Propietarios and Leroy Merlin, which reveals that the 43% of owners who renovated their home in the last 5 years did so to improve the appearance of the space.

As the architect explains, a poorly equipped home can lead to serious health problems. "Moisture, for example, whether due to capillarity or poor insulation, causes respiratory diseases. We also see it in rooms that cannot be ventilated, such as bathrooms, due to lack of windows. Old lead installations, which is a highly harmful element, the overcrowding of a home, extreme cold or noise, the result of poor insulation in some cases, are other determinants that literally take years off our lives ", says Millor . "When we adapt a house applying standards, for example, energy efficiency, we are not only thinking about the environment, but also about our own health," he adds.
CREDITS
Drafting: Marta Villena
Illustration and Design: María José Durán
Development: Rodolfo Mata and Belén Polo

Editorial coordination: Francis Pachá

Design coordination: Adolfo Domenech