Technology
PP anger Vox, his key crutch in the governments of Madrid, Andalusia and Murcia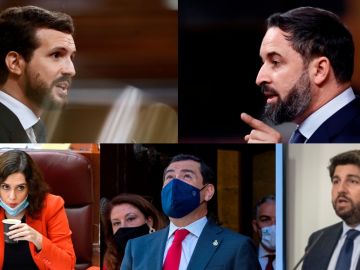 Madrid
Updated: Thursday, October 22, 2020 1:05 PM
Published on: 10/22/2020 1:04 PM
"We don't want to be like you. So far we have arrived", this is how Pablo Casado broke with the formation of Santiago Abascal in the midst of a debate on the motion of censure presented by Vox, a party through which he governs in three autonomous communities.
This is precisely what Abascal reminded the PP leader after his speech to Congress, warning that if they acted like them, the popular "would cease to rule tomorrow" in these territories.
And it is that the sum of Madrid, Andalusia and Murcia, it is 16 million people governed by the PP thanks to the party of extreme right. And not only in these autonomies they depend on the Green Party, but they are also dependent on ten municipalities: Badajoz, Palencia, El Ejido, Almería, Ceuta, El Campello, Majadahonda, Collado Mediano, Pozuelo de Alarcón and the capital itself. , Madrid.
It is striking that, despite the need, after Casado's remarks in Parliament, the party's social networks at national and regional level launched a campaign with the slogan "yes to Spain, no to Vox".
The clear adhesion of the PP of the Community of Madrid, which launched an image with this hashtag in large format, particularly stands out. A government, that of Ayuso, which could face a motion of censure proposed by the PSOE-M, and which clearly depends on Vox and its regional leader Rocío Monasterio.
The same has happened with the Andalusian PP account, where Juanma Moreno governs thanks to the support of the Abascal party.
In the same way, the leaders of the PP also expressed themselves, as the president of the Junta de Castilla y León, Alfonso Fernández Mañueco, who was "proud" of Pablo Casado: "He lived up to what the Spaniards claim ".
In the same vein, the general secretary of the PP, Teodoro García Egea, paraphrased his leader: "Vox wanted to cut the two ears of the PP and finished the manosabio Pablo Iglesias".
Are your governments really in danger? Despite the People's Party's radical change regarding Vox, sources in Abascal's formation assure LaSexta that they will not "break a pact", although they admit that "Casado shot himself in the foot" . They make sure that "they will keep their sights high and not break anywhere."