Technology
PSOE appeal for deal to withdraw Largo Caballero and Indalecio Prieto tributes in Madrid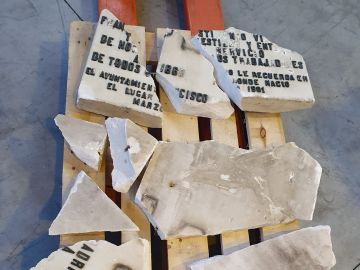 Posted: Saturday, November 7, 2020 1:04 PM
The PSOE and the socialist municipal group of the City of Madrid have presented a contentious-administrative appeal against the plenary agreement which intends to withdraw from this city the tributes to Indalecio Prieto and Francisco Largo Caballero, to which is added another appeal from the UGT union .
The contentious-administrative appeal of the PSOE aims at the preventive suspension of the Plenary agreement of last September 29 – on a proposal from Vox and with the support of the PP and the Cs – to rename the streets Largo Caballero and Indalecio Prieto and to remove the statues and plaques that the first, President of the Republic (1936-1937) during the Civil War, dedicated in Madrid.
This complaint against the Consistory, moreover, is due to "the destruction", in the opinion of the PSOE, of the plaque in homage to Largo Caballero which, until its withdrawal on October 15, was on the facade of the house in the Chamberí district where he was born.
Likewise, the Socialists call for the withdrawal of tributes to be contrary to the law of historical memory (LMH) and to the Constitution itself. The resource that article 46 of the Constitution attributes to public authorities "the conservation and enrichment of the historical, cultural and artistic heritage of the peoples of Spain and of the goods that compose it, whatever their legal status and ownership, is highlighted. ".
In statements sent to the press, the socialist councilor Ramón Silva indicated that the action of the Consistory, with the support and the initiative of Vox, is "inconceivable", he also denounces the "Manichean" use, "tortico" and "false" of the Law of historical memory which even subverts the constitutional order
For its part, the UGT asked the Court to adopt as a precaution the suspension of the effectiveness of the plenary agreement, so that the names of the streets dedicated to Francisco Largo Caballero and Indalecio Prieto are not changed during the call handling.
They also added in a statement that they were actively working on the preparation of a criminal complaint for the destruction of the plaque, of "undoubted artistic and historical value", of Largo Caballero who was kidnapped on October 15 and found on the facade of The House of Chamberí where he was born.