Technology
Restrictions come into force in 32 basic health zones in the Community of Madrid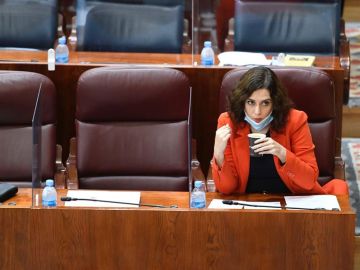 Updated: Monday, October 26, 2020 10:20 AM
Published on: 10/26/2020 8:45 AM
Restrictions for basic health zones come into force in the Community of Madrid. According to the Ayuso government, the aim is to reduce infections in these areas so that the rest of the region can "continue to function with a certain normality".
The restricted health zones affect 12 municipalities in the region: the capital of Madrid, Collado Villalba, Guadarrama, Majadahonda, Pozuelo de Alarcón, Parla, Colmenar Viejo, Morata de Tajuña, Torrejón de Ardoz, El Boalo, Villarejo de Salvanés and Colmenar de Oreille.
In the capital of Madrid, the restricted areas belong to nine districts: Núñez Morgado (district of Charmartín), Guzmán el Bueno (Chamberí), San Andrés, San Cristóbal and El Espinillo (Villaverde); Entrevías, Peña Prieta, Pozo del Tío Raimundo, Alcalá de Guadaíra, Rafael Alberti and Numancia (Puente de Vallecas); Daroca (linear city); Vinateros Torito, Pavones and Vandel (Moratalaz); Puerta del Ángel (Latin); Virgin of Begoña (Fuencarral-El Pardo); and Infanta Mercedes and Villamil (Tetuán).
In these areas, where 671,259 people live, 15.5% of the total cases detected during the last 14 days are concentrated, for a total of 4,223. To set the restrictions, an incidence rate of 500 cases per 100 000 population was established, decreasing it from the 750 cases that existed previously.
The regional president stressed last night, in an interview on Telemadrid, that the closure of schools is not envisaged and that the closure of the borders of the region, which allows the state of alarm, is a question "that it will be necessary to study because legally very clear ". As to whether the Community of Madrid plans to apply more restrictions in the face of upcoming holiday bridges and Christmas, Ayuso stressed that "we will see that this week".
In the same spirit, the Minister of Health of Onda Madrid said: "We will assess whether the ZBS (basic health zones) are extended to districts, municipalities or the whole of the Community of Madrid". "If we succeed in applying all these measures well, we will obtain good results", added Ruiz-Escudero, who defends the need to "take urgent measures in Barajas".
Mobility restriction and capacity reduction
Thus, from this Monday, October 26, the entry and exit of people will be restricted except in the case of certain justified trips. Road traffic through these areas will be permitted as long as it begins and ends outside of them. For this reason, it is important that if you are moving into a restricted area, you have a clearance that certifies that the reason for the movement is force majeure.
The restaurant must close at 10 p.m. in areas with reduced mobility (except for home delivery services); in unrestricted areas the cut-off time will be 00:00
In addition, the capacity of places of worship is limited to one third, while vigils can have a maximum of 15 participants, if they are outdoors, and 10 if they take place in closed spaces. Parks in affected areas are also closed.
But are the fines already in effect? As happened in previous restrictions, approval from the Superior Court of Justice in Madrid is required, so at present officers could only report on the restrictions, but not very well.
On this map you can check if the place where you live is in a restricted area: