Technology
Rosalía Iglesias already has the car that forces her to enter prison in less than ten days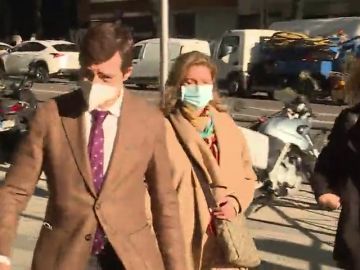 Updated: Friday, October 30, 2020 10:51 AM
Published on: 10/30/2020 10:49
Rosalía Iglesias, Luis Bárcenas' wife, went to the National Court this Friday morning to collect the order to enter prison which will force her to enter prison within a maximum of ten days.
LaSexta's cameras were able to capture her entering and leaving the courthouse: the sentenced to 12 years in the Gürtel plot, who was accompanied by her lawyers Marta Giménez and Joaquín Ruiz de Infante, remained silent and was quite serious.
As laSexta has learned, Iglesias will not run out of time and enter prison before the ten days allowed. This sentence was pronounced this Thursday by the second penal section of the national court to her and to five other people sentenced to serious sentences in the Gürtel case: Jesús Sepúlveda, Ricardo Galeote, José Luis Izquierdo, María del Carmen Rodríguez Quijano and Carlos Clemente.
The Court adopted this decision in an order after receiving reports from the prosecution in which it does not oppose the granting of a time limit for the voluntary admission of persons sentenced to serious sentences, in execution of the final judgment of the Supreme Court which confirmed that of the National Court.
In the same resolution, the magistrates reject the suspension of admission to prison requested by José Luis Izquierdo, Carmen Rodríguez Quijano and Rosalía Iglesias. In the case of the latter, the Court explains that there is no obstacle to the continuation of the rehabilitation treatment in the penitentiary.
Entry into Rosalía Iglesias prison could set off alarms within the PP, as her husband Luis Bárcenas has always warned that he would not tolerate this extreme and, when the time came, he would pull the blanket.