Technology
Salvador Illa hopes Fernando Simón "provides clarification" for his macho comments on nurses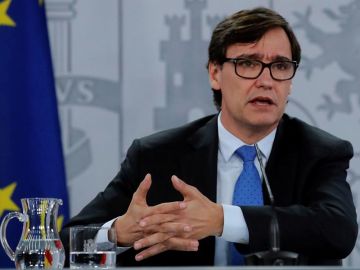 Posted: Monday, November 2, 2020 1:40 p.m.
Health Minister Salvador Illa has spoken out about the macho comments about nurses Fernando Simón made during a YouTube conference with climbers Iker and Eneko Pou.
"I hope he himself provides a clarification in this regard," said the head of Health, convinced that the director of the Center for alerts and health emergencies will explain these words.
"Person who has worked closely with health groups, I am sure he will clarify things and express his support and admiration to all without distinction, and in particular to the infirmary," he said.
Simón's unfortunate statement is part of an already sexist issue. "It was not very clear to us if you like infectious diseases or infectious nurses," asked Eneko Pou, to which the doctor replied with a laugh: "I didn't ask them if it was infectious or not, that was seen a few days later ".
"I've always been very scared of women. I'm very infatuated and that scared me," added Simón.
After the claims, the General Nursing Council demanded an immediate apology for the "sexist, primitive and humiliating" comments and threatened to demand their "parliamentary disapproval and subsequent revocation by the government".
In addition, the vice-president of the professional organization, Pilar Fernández, criticized that these words "are totally inappropriate for a scientific expert and two elite athletes".
"This type of comments, jokes and jokes is an attack on the dignity of women and the dignity of a health profession which is essential for our health system and which, moreover, is fundamental in the management of the global health emergency it is supposed to handle. Fernando Simón, the same one who laughs at her and despises her, "he said.