Technology
Sánchez brings together social agents on Monday to form the Table of dialogue for the recovery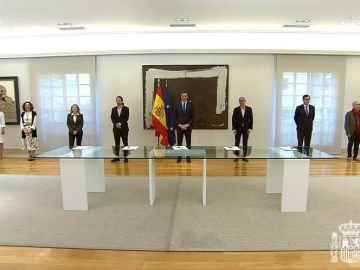 Posted: Monday, November 16, 2020 8:20 a.m.
Pedro Sánchez convened this Monday the social agents of Moncloa to establish the Social Dialogue Table for recovery, transformation and resilience, which will serve as a regular channel for the recovery plan which is being prepared and negotiated with the Commission European Union for its financing with the Recovery Fund-Next Generation.
The meeting is at 13:00 and will be attended by the social agents, the president of the CEOE, Antonio Garamendi; the president of CEPYME, Gerardo Cuerva; the general secretary of the workers' commissions, Unai Sordo; and the secretary general of the UGT, Pepe Álvarez.
On behalf of the government, together with President Sánchez, will be the Third Vice-President and Minister of Economic Affairs and Digitization, Nadia Calviño; the fourth vice-president and minister of ecological transition, Teresa Ribera; the Minister of Finance, María Jesús Montero; the Minister of Transport, Mobility and Urban Agenda, José Luis Ábalos; the Minister of Education and Vocational Training, Isabel Celaá; the Minister of Labor and Social Economy, Yolanda Diaz; the Minister of Industry, Commerce and Tourism, Reyes Maroto; the Minister of Agriculture, Fisheries and Food, Luis Planas; and the Minister of Inclusion, Social Security and Migration, José Luis Escrivá.
According to the executive, it is a question of having an open way on "the plans of agreement and follow-up between the government and the social agents" of the recovery plan which is being prepared and negotiated with the European Commission for its financing with the fund. help.