Technology
Sánchez sends moving letter to 11-year-old boy admitted after homophobic assault: "You are a brave man"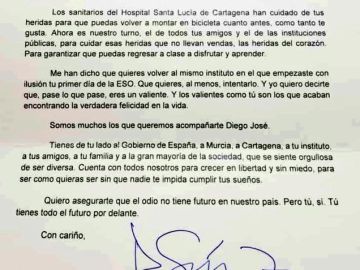 Posted: Tuesday, November 17, 2020 10:24 PM
Government President Pedro Sánchez sent a moving letter to the 11-year-old minor who was the victim of a brutal homophobic attack in Cartagena, Murcia, as he was leaving high school.
The president addresses the minor to send him his affection. "You are not alone," Sánchez said before declaring that thanks to his courage, he will soon recover from his pain.
"The health workers at the Santa Lucía de Cartagena Hospital have treated your wounds so that you can get back on your bike as quickly as possible, as you love it so much. Now it's our turn, that of all your friends. and that of public institutions, to take care of these wounds that do not wear bandages, heart wounds … to guarantee you can return to class and enjoy and learn ", continues the letter, published by the GALACTYCO Collective on Twitter.
Sánchez returns to little Diego José to define him as a "courageous": "The courageous like you are those who end up finding true happiness in life."
Thus, the letter continues to explain to the minor that he is not alone, and that there are many who want to accompany him: "You have at your side the Spanish Government, Murcia, Cartagena, your institute, your friends, family and the vast majority of society, which prides itself on being diverse, "he says.
In this sense, he goes on to ask him to count on them all to "grow in freedom and without fear": "To be as you want to be without anyone preventing you from achieving your dreams".
"I want to assure you that hatred has no future in our country. But you, yes. You have the whole future in front of you", concluded the president in the moving letter that the group thanked the group of 'having been addressed to the child as an "institutional statement against LGTBIphobia".