Technology
Spain adds 52,188 new COVID-19 positives, cumulative incidence soars from 361 to 410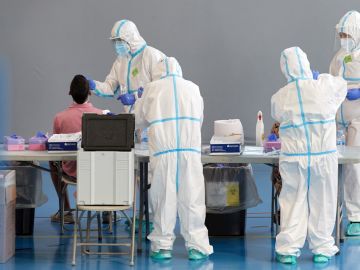 Posted: Monday October 26 2020 18:59
Health reported 52,188 new coronavirus infections this weekend, the highest number of infections in a weekend since the start of the pandemic, with an average of 17,000 new cases per day.
The ministry also added 279 new deaths from figures recorded last Friday, which represents 35,031 deaths since the start of the pandemic. With the increase in positives, the cumulative incidence in Spain at 14 days per 100,000 inhabitants has increased from 361 to 410 cases.
Compared to Friday also, nearly 1,500 more people are hospitalized. Figures that already have an impact on health services: currently, there is 13.7% occupancy of hospitals in conventional beds and 24.2% occupancy of ICU beds throughout Spain.
The director of the Health and Emergency Alert Center, Fernando Simón, assured that "we have been around three weeks during which an increase in transmission was again observed". An epidemiological evolution which is "rapid and ascending, very clear". In fact, and despite the fact that the situation "varies in the different communities", some are "more than 40% occupied".
A situation, he said, which "puts our health system in a situation of great pressure": "We are not yet in a collapse but the pressure is very important and some hospitals are in a very critical situation" . "It is very likely that if the measures are not implemented very quickly, the transmission will continue to increase," he added.
This is the first report on the pandemic made by Health since the executive of Pedro Sánchez declared a state of alert throughout the national territory except the Canary Islands last Saturday.
As part of this legal mechanism, which will be approved by the Council of Ministers on Tuesday until May 9 next year, the government plans to give communities the possibility of decreeing perimeter limits and other restrictions due to the pandemic. . Although Congress will have to ratify the measure.
The government declared a state of alert last Saturday in view of an increasing epidemiological curve and various festivities in the coming weeks that could increase the interterritorial spread of the virus.