Technology
Spain Adds 55,019 COVID-19 Infections in Worst Weekend of Wave 2, Accumulated Incidence Rises to 521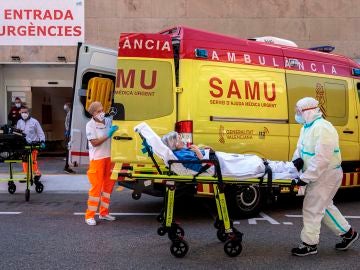 Updated: Monday, November 2, 2020 7:23 PM
Published on: 11/02/2020 19:05
The Ministry of Health, in the daily update of official figures that reflect the evolution of the coronavirus pandemic in Spain, adds 55,019 new COVID-19 infections over the weekend (since last Friday), of which 4,334 were posted within the last 24 hours.
Health has also added 379 new deaths to its data compared to figures recorded last Friday, bringing the total to 777 deaths in the past seven days.
These data reflect a marked increase in infections and deaths over the past week. For comparison, a week ago, on Monday October 26, there were 52,188 cumulative cases and 279 deaths. In addition, the cumulative incidence fell from 485 cases per 100,000 inhabitants on Friday to 521 infections on Monday.
The number of deaths from COVID-19 since the start of the pandemic in Spain stands at 36,257 with the latest data, and the number of people infected with the disease, confirmed by a PCR test, stands at 1,240. 697 4.
Asturias closes all non-essential activities and requests home containment
Asturias was the community that planned to take the most drastic measures and on Monday decreed the closure of all non-essential economic activity, including bars and restaurants.
In addition, he announced that he would ask the Ministry of Health to impose home confinement in the region for 15 days. A measure that, as LaSexta has learned, the central government is not considering.
Health Minister Salvador Illa said the restrictions that have been applied so far "can control the coronavirus pandemic". Illa has thus ruled out the home placement that Asturias are planning to request and which is also being studied in other communities. "For the moment we do not foresee the imprisonment", he said, while asking the leaders "to have the temperance to wait to see the effects of these measures".