Health
Take the bike for everything except to go to the doctor
Recipe: eat well and play sports. Guidelines: a healthy diet as a habit, five times a week in the case of physical activity. Up to regularity, according to the dermatologist Vicenç Rocamora. Just go for a run 20 minutes or walk quickly for three quarters of an hour or do an hour By bicycle, it depends on the patient, so that the immune system is activated "like a policeman who watches out if there is something abnormal and acts", illustrates this specialist from the Manacor hospital (Mallorca). If sport acts as a defender of the body, with a healthy diet what is achieved is not to attack it.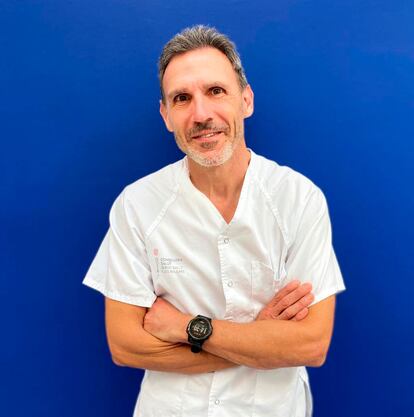 Some foods like red meat, ultra-processed meat or sugar inflame the body, something counterproductive in general but even more so when it comes to an immune-mediated inflammatory disease such as psoriasis. It is not about adding a burden to these patients who are dealing with a chronic disease, but through dermatology, nursing and nutrition to give them some guidelines and individualized follow-up so that the capricious outbreaks in the form of red and white plaques or excessive peeling of the skin diminish or are less severe.
There is no specific diet to lessen the effects of psoriasis on the body. There is no food that achieves an immediate effect or any food that leads to an outbreak as soon as you eat it, it is, according to the pharmacist and nutritionist Antonieta de Andrés, to follow the Mediterranean diet. "There are no prohibited foods as such, but there are some that must be avoided," says the specialist, who visits her pharmacy in Astillero (Cantabria). Bad fats are harmful just like flours obtained from processed cereals such as wheat or sweets. It should be replaced by an increase in the intake of vegetables, legumes, fruit and accompanied by the practice of exercise. In any case, you should go to a specialist who recommends and guides you in changing habits.
One thing goes hand in hand with the other. Rocamora says that the first thing he tells his psoriasis patients when they come into the office is to stop smoking. The second thing is that they do sports. And the third, that they eat well. Patients with this immune system disease are two to four times more likely to be obese. More technically, due to the inflammation caused by psoriasis, the hormone that regulates appetite, leptin, is inhibited and they eat more and gain weight. This condition is aggravated if what you eat is not beneficial and if you lead a sedentary life. It is advisable to adopt healthy habits to anticipate or to alleviate the effects of obesity that may be present, to have a better quality of life.
Soccer has something to contribute
Rocamora, a great athlete – he runs in the mountains, nothing, he rides a bicycle; has finished several ironmans–, indicates a study carried out by the University of Naples Federico II. A group of researchers analyzed the influence of sports practice on the development of psoriasis. They took a sample of . of similar characteristics (age, race, sex and relatives with psoriasis) who did not practice sports regularly. The percentage of cases with this disease of the immune system was three times lower in professional soccer players (1.6%) than in the other group (4.5%). Published in the academic journal Journal of the European Academy of Dermatology and Venereology, the study concludes that intense and continuous practice of sport can have a positive influence on psoriasis, that is, limit the appearance of flare-ups or other associated diseases (comorbidities) such as the aforementioned obesity or intestinal inflammation, cardiovascular diseases or psoriatic arthritis.
It is not a question of becoming a record holder but of finding the aerobic exercise that best suits each one. Like all good habits, the sooner the better, and the longer it is, the greater effects it will have. Rocamora establishes a kind of agreement with the patients. He tells them that he is going to help them, that they can become a person without psoriasis, but he also asks them for help, that it is nothing more than following their recommendations regarding sports and food and habits such as alcohol and tobacco . "When they get better they come and tell you about it, they tell you that they eat better, that they feel better", he explains very sure of the importance of taking care of oneself in these terms. Of course, not all cases respond the same and, of course, medical treatments are essential to control psoriasis.
The work of dermatologists and nurses is vital in this monitoring. In the same way that in some hospitals there is a psychology unit to attend to the emotional disorders that derive from carrying this disease for so long, De Andrés hopes that one day there will be a nutritionist who will establish the appropriate guidelines. "Nurses have great knowledge but there are things they don't know and they don't have to know," says the pharmacist of 59 years, who graduated as a nutritionist 6 years ago. De Andrés focuses on follow-up: "A dermatologist tells the patient to lose weight but if he is not seen regularly it is difficult for him to get on the path of eating well, they lack nutritional education."
And if the disease itself prevents the practice of sport
Between 10% and 30% of psoriasis sufferers suffer from psoriatic arthritis, a chronic condition that causes inflammation of the joints. In this case, the practice of impact sports such as jogging is not recommended, but they can swim or walk. There is a type of psoriasis that affects the soles of the hands and feet, fissures are created, which can affect performance. The Mallorcan dermatologist affirms that with the appropriate treatment the practice should not be limited. But again, it is not about applying the same solutions to all patients: "Walking at an intense pace during 40 minutes can be a way of doing sports ", he assures.
The disease does not prevent Nacho from exercising with intensity , but it almost deprived him of dedicating himself to what he wanted. This man from Zaragoza was excluded three times from the national police examinations for suffering from psoriasis. Nacho, Spanish champion of judo, swimmer, runner, American football player, everything, presented medical reports and his sports record but it was not enough. A law prevented him from entering the body. Until the struggle of patients like him and associations such as Acción Psoriasis managed to lift the veto that prevented seven million Spaniards suffering from psoriasis, HIV, celiac disease or diabetes from being part of the State security forces.
Very athletic, Nacho improved the marks every year he appeared. Take care of his diet, he does not smoke and he does not drink. "If alcohol makes people hangover, it made my elbows and knees red," says Nacho, referring to the fact that it caused breakouts. Just like when he studied the oppositions and spent three days with a lot of stress and based on energy drinks. There was no fault: the peeling of the skin increased. Every day he carries a banana and a cereal bar in his backpack "to avoid the Neapolitan and torrezno" –the sport carries it as a flag. Nacho points out other benefits of exercising beyond losing weight or gaining muscle mass, or those described by specialists: "The sun hits your skin [beneficioso para los pacientes de psoriasis], you interact with people in a locker room [se combate el pudor a mostrar las lesiones], you sleep better, you de-stress … ". A month ago he had a communion and he exceeded it. Sometimes you skip the pattern without breaking the habit.