Technology
Teruel records 1,418 cases per 100,000 inhabitants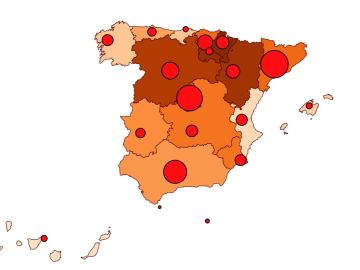 Updated: Wednesday, October 21, 2020 1:01 PM
Published on: 10/21/2020 12:34
The incidence of the coronavirus continues to skyrocket across Spain and much of the regional presidents have been forced to impose perimeter lockdowns in many cities to flatten the contagion curve. And it is that from the Ministry of Health, they have been warning of the second wave of COVID-19 for a few weeks.
According to the latest data provided, as of October 19, the average Spanish incidence was 322.64 cases per 100,000 inhabitants. As can be seen from the attached map, data has exploded in recent days, dropping from 257 cases to 322 in the past 12 days. An incidence which is far from the objective set by the government of 50 cases per 100,000 inhabitants.
Castilla y León, La Rioja, Aragón, Comunidad Foral de Navarra and Comunidad de Madrid are among the regions most affected by this second wave with incidents between 400 and 1,000 cases of COVID-19 per 100,000 inhabitants. In fact, Navarra was the first to declare self-locking.
If we take into account the cities of more than 40,000 inhabitants, the most affected are Huesca Talavera de la Reina (Toledo), Pamplona (Pamplona), Vic (Barcelona), Granada (Granada), Melilla, Salamanca (Salamanca), Majadahonda (Madrid)), Granollers (Barcelona) and Figueres (Tarragona).
In addition, the Minister of Health of Aragon reported that Teruel and Huesca recorded in the last 14 days an incidence of 1,418 and 1,003 cases per 100,000 inhabitants, respectively. For this reason, the autonomous government decided to confine the three Aragonese provincial capitals on the perimeter.