Technology
the autonomous communities which will not decree the closure of the perimeter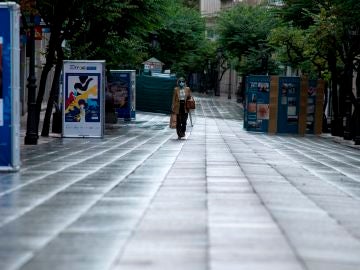 Posted: Friday October 30 2020 10:40
All the autonomous communities are stuck in a race to stop the coronavirus pandemic. Most have already decreed a perimeter closure facing the Todos los Santos Bridge to prevent mobility. Galicia, Extremadura, the Canary Islands and the Balearic Islands are the only ones that have chosen not to restrict entry and exit from the region, but they have applied other health measures which we detail below.
Galicia
This Friday, Alberto Núñez Feijóo will appear to announce new restrictions, even if he completely excludes the closure of Galicia. For now, social gatherings are limited to groups of no more than five people and nighttime mobility restrictions have been imposed between 11 p.m. and 6 a.m.
In the case of Santiago de Compostela and O Milladoiro, both in La Coruña, social gatherings were limited to people living together. In addition, bars and restaurants cannot be used inside the premises and the capacity of the terraces is limited to 50%.
The municipalities of Ourense, Barbadás, Verín, Oímbra, Vilardevós, O Carballiño, O Irixo and Boborás, all located in the province of Ourense, are peripherally confined. In other words, entry and exit have been restricted for their neighbors, except for reasons of force majeure. Likewise, social gatherings have been restricted to people living together.
Extremadura
In Extremadura, social gatherings are also limited to groups of up to six people and night mobility restrictions have been applied between 00:00 and 06:00, prohibiting traffic on public roads except in cases of force majeure.
The Council also decreed the closure of the perimeter and the return to phase 1 of the municipality of Badajoz d'Almendralejo, as well as the isolation of the perimeter and capacity controls in Jarandilla de la Vera, La Roca de la Sierra, Usagre , Cabezuela del Valle, Jerte and Tornavacas.
The regional government has also adopted capacity control measures in Mérida, Plasencia, Olivenza, Jerez de los Caballeros, Calamonte, Corte de Peleas, Guareña, Jaraíz de la Vera, Lobón, Valverde del Fresno and Valverde de Leganés.
Canary Islands
The Canary Islands are the only community that has not had to enforce a curfew or limit social gatherings to six people, according to the state of alarm decree approved by the government.
However, in hotels and restaurants, a closing time has been set at 00:00 a.m. maximum, without being able to admit new customers after 11:00 p.m. In addition, a separation distance of 1.5 meters must be respected between tables or groups of tables, as well as in the bar, between customers or groups.
the Balearic Islands
The Balearic government has established restrictions on nighttime mobility between 11:00 p.m. and 6:00 a.m. and has confined Manacor, Mallorca, to the perimeter. Your neighbors will only be able to leave the municipality to work, study, receive health care, care for the elderly and / or dependents or other causes of force majeure.
Likewise, social gatherings were reduced to six people and, if they live together, to 10. In catering establishments, bar service was banned and a limit of six people per table was established.
Other restrictions that were imposed were the reduction of capacity to 50% in common areas of shopping malls and to 30% in places of worship. At events such as weddings or funerals, the capacity should be 25 people indoors and 50 outdoors.