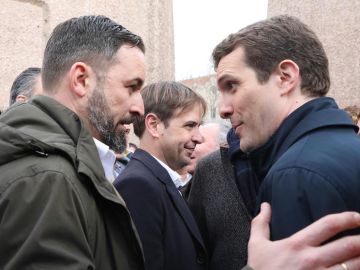 Publication: Wednesday, October 21, 2020 10:02
Any excuse is good for users of social networks to dare with the famous memes. Today's congressional debate session on Vox's no-confidence motion was going to be no less, and as a result, netizens have already launched the first samples of their ingenuity on social media.
This is the fifth motion of censure in the history of democracy in Spain. This time, the initiative for this proposal comes from Vox, who is seeking to replace Pedro Sánchez as President of the Government with his leader Santiago Abascal.
However, achieving the goal of the far-right party will not be an easy task, as it needs the support of 176 MPs and, at the moment, it only has 52 votes in favor. In addition, most of the parties in the chamber have already put forward their negative votes on the Vox proposal within these days. Therefore, many users on the net compare losing Abascal to different situations, such as falling on a gym treadmill.
Unlike the rest of the parties, the PP has not revealed whether it will vote against or if it will abstain. What he has made clear is that his vote will not be affirmative. This is what Cuca Gamarra, PP spokesperson at the Congress of Deputies, expresses: "We are not going to support this motion of censure, we are working on what matters to the Spaniards." Despite Gamarra's statements, network users suggest Casado could join Abascal's motion at the last minute and illustrate the situation as follows:
The popular vote took center stage in the networks, where users joked about the number of times the popular leader was asked about his party's position in the debate. However, popular support for the Vox cause would be insufficient for it to advance: between the two formations they would only have the support of 140 deputies (88 from the PP and 52 from Vox), they would miss the vote in favor of 36 deputies. more to obtain the necessary absolute majority.
Despite the fact that Vox's no-confidence motion is doomed due to lack of support from the House, users have already expressed their intention to follow it live. Of course, in the company of a good popcorn.