Technology
The cumulative incidence in Spain stands at 527 and there are already six communities with more than 40% of beds occupied in ICUs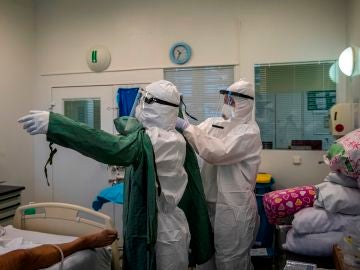 Posted: Tuesday, November 3, 2020 6:35 PM
Health has added 18,669 new cases of coronavirus to the total tally, which already stands at 1,259,366 since the start of the pandemic. The death toll is no better than the numbers of the past few days. Spain has recorded 238 deaths in the past 24 hours, adding a total of 36,495 during the health crisis.
For the second day in a row, data for Catalonia has not been included. In addition, the incidence accumulated throughout Spain continues to increase to reach 527 infections per 100,000 inhabitants on a national average. However, the Community of Madrid managed to drop below 400, to 373.
Precisely today, the vice-president of the government, Carmen Calvo, shook the force with which yesterday the Minister of Health, Salvador Illa, affirmed that a home internment was not planned in Spain.
Carmen Calvo indicated that they would try "that it does not come", and assured that it was necessary "to await the results" of the last measures applied in these 15 days of state of alert, on November 9th.
The first vice-president of the government asked "not to advance phases": "We will see what result these regulations will have until November 9," Calvo said in an interview. And it is that the shadow of this restriction hangs over our country again after several autonomies have positioned themselves in this direction and that certain European countries have already decreed it.
In fact, Asturias formally asked the government yesterday to decree a 15-day home placement in its territory, a measure Melilla had previously demanded. Although the Government is reluctant for the moment to comply with it, the situation, far from improving, is heading every day towards figures reminiscent of the first wave.