Technology
The gifts Sánchez and Pope Francis exchanged when they met in the Vatican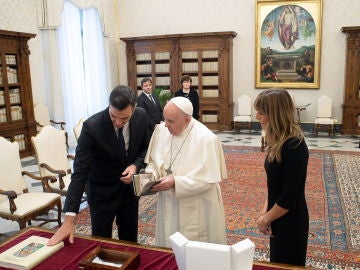 Posted: Saturday October 24, 2020 1:56 PM
Despite its brevity, Pedro Sánchez's meeting with Pope Francis had some remarkable moments. At the President of the Spanish Government's first meeting with the Supreme Pontiff since 2013, Sánchez and his wife dressed in black as the Vatican protocol mandate.
The private meeting began a little before the official time at 9:20 a.m. and ended at 9:55 a.m., for a total of 35 minutes of conversation. To celebrate this meeting, the two protagonists exchanged gifts.
Pedro Sánchez presented Pope Francis with a facsimile of Bishop Juan Rodríguez de Fonseca's Book of Hours, a prayer book whose original manuscript dates from the 15th century.
For his part, the Argentinean gave a bronze bas-relief dedicated to the theme of mercy, hospitality and brotherhood in which a woman with a child in her arms is depicted in the background, entering the Plaza de San Pedro and in the background a boat with migrants and in the foreground intertwining hands.
He also gave the Prime Minister a copy of his seven documents, encyclicals and apostolic exhortations, published during his seven years of pontificate, and among them the last "Fratelli Tutti".