Technology
The government celebrates today an extraordinary Council of Ministers to declare a new state of alert in Spain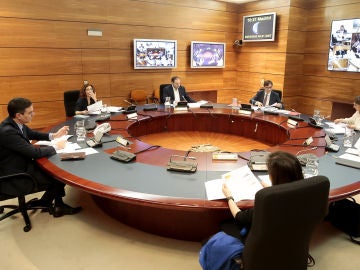 Madrid
Posted: Sunday 25 October 2020 09:18
Key day in the fight against the coronavirus pandemic. The government is meeting today in the extraordinary Council of Ministers from 10:00 a.m. to study the establishment of a new state of alert in Spain, the second for the coronavirus pandemic.
This meeting will take place at the Complexe de la Moncloa and the terms of a new royal decree will be studied with which it will seek to strengthen the measures adopted by the Territorial Council on Thursday.
Already Friday, and at the request of various regional leaders, the government alerted its ministers to celebrate this extraordinary Council of Ministers this weekend. Over the hours, more and more regional presidents have asked to reconsider the number of the state of alert, precisely 11 – all except the leaders of the PP-.
Catalonia, Euskadi, Navarre, Extremadura, Castile-La Mancha, Melilla, Asturias, Cantabria, the Valencian Community, the Balearic Islands and La Rioja have formally requested the government to have this legal umbrella which allows them to apply more severe restrictive measures for the second wave of the coronavirus which has devastating effects throughout the national territory.
Data provided by the Ministry of Health already reflects more than a million infections since the start of the pandemic, although the President of the Government, Pedro Sánchez, has acknowledged that the actual number of positives is over three million.
A different alarm state
In the event that a new state of alarm does apply, it is expected to have nothing to do with what we experience in the months of March and April, without such severe containment.
To begin with, it must be taken into account that the law provides that the state of alert "cannot exceed 15 days" and that it can only be extended "with the express authorization of the Congress of Deputies, which will have the power to "set the current scope and conditions" they envision.
A hypothetical calendar would place us November 9 as the deadline for this new state of alert – if it enters into force from this Monday, October 26 -. Before that date, Congress must decide whether to increase this number and for how long.
For this, the Executive assumes that it has sufficient support to carry out this extension, given the demands of regional leaders and the support of the Citizens, who on Friday made their 10 seats available to the Government to approve. the state of alert. .