Culture
The hidden treasure of Iván Zulueta, the great cursed of Spanish cinema
Are close to 40 boxes. Among them, posters, sticker albums, drawings, polaroids, correspondence with friends and mentors such as Will More (the protagonist of Rapture) , Terenci Moix, Carmen Rigalt or José Luis Borau, who suspended him from the Film School and the next day hired him at their production company ("I never met anyone with such visual talent," said the Borau himself). They are the remains of the shipwreck of Iván Zulueta (San Sebastián, 1943 – 2009), the cult director of Spanish cinema. They were in the hands of his older brother, Jaime, until the Spanish Film Library acquired the legacy by 60. 16 euros. In it, your movies are also saved in Super 8 and 16 millimeters, a unique treasure because Zulueta, a fan of Super 8 shorts and the author of some television works, only shot two feature films: One, two, three … to the English hideout ( possessed it after having failed film school— and Outburst (1979), the film that made him a star and at the same time the great curse. As Borau said: "In Rapture he left a lot of himself."
Of those films , which the Spanish Film Library is cataloging and digitizing, next Saturday will be able to see a first session, which also commemorates the International Day of Home Movies (Home Movie Day). It barely exceeds 52 minutes and the titles of the shorts are the ones that appeared in the boxes, explains Josetxo Cerdán, director of the Filmoteca, who will present the screening together with Virginia López Montenegro (Zulueta's close friend) and Miguel Fernández Labayen, who have helped in the journey of this archive. "It is the brightest Zulueta, very traveler, the one from the seventies, before falling into his addiction and his darkness", defines Cerdán, who clarifies that in other boxes there may be both films by the San Sebastian director and films bought by the family for its projection. "Maybe there are even the recordings of Iván's father."
In this session there are brilliant moments: at the end of Christmas Fair and gifts, with a market shot in New York and the delivery of presents to his father and brothers in the family home at the end of the San Sebastian beach of La Concha, Zulueta recorded some more atmospheric images, evidence for later experiments. There is also a phenomenal shot-back shot, probably mounted on the same camera, with two friends putting on makeup, and an almost magical gift: Will More material for Arrebato, a rehearsal with the protagonist of Rapture. "We have more evidence before that shoot, as with Cecilia Roth, longer, and even personal material related to Rapture", Cerdán assures.
Another curiosity of the screening at the Filmoteca: a sample of LGTBI activism by Zulueta under the title Manif Gay: the recording of a demonstration on the side of Madrid's Retiro Park in favor of homosexual civil rights. A shot in which the camera crosses the vindication in reverse ends in a close-up of an exultant and seductive Eusebio Poncela, another of the protagonists of Arrebato. "I think that in the end we will get a more polyhedral vision of Iván," says Cerdán.
Zulueta was much more than cinema. As the recently deceased Antonio Gasset, another of the director's great friends, said, "Iván enjoyed painting very much, it may be that his authentic drive is born from that art." In the documentary Iván Z (2005) Andrés Duque managed to enter the family mansion in San Sebastián and portray, with Zulueta himself as a guide, his passions: for example, his childhood hobby , create movie posters you haven't seen. "There is all that in the boxes", the director of the Filmoteca emphasizes.
What to do after 'Arrebato '?
What is still fundamental to discover to complete the portrait of Zulueta? "For example, there will not be the films that the police took after a projection in a college," says Jaime Chávarri, who together with Gasset, Manolo Marinero or Zulueta, among others, made up a group of friends passionate about cinema underground and fun. "Hopefully the fortune of the Zulueta will appear, of which I saw about eight or nine minutes, and in which he interviewed the great bourgeoisie of San Sebastián. He filmed it before Arrebato. " The Zulueta were one of the most prosperous families in 19th century Spain thanks to their plantations in Cuba. From that splendor was left the mythical mansion in which Zulueta was cloistered for decades with his mother, as portrayed by Iván Z. In that documentary by 2004, Ivan confessed things like that he had stayed "inside The exterminating angel" or "nobody wants to grow up."
Duque, by phone, now recalls: "It is difficult to know what material has survived the deaths of his little brother and his mother ". When Duque filmed Zulueta, he had not recorded anything for years. "For example [y se ve en pantalla], I had never taken a video camera. When he took it, he felt the instant poison. Like a child with a toy that drives him crazy ". And did she miss him? "Yes, but he lacked the will, and he was still submerged in drugs." Zulueta himself recalled in an interview before he died: "I used to ride a horse during the filming of Arrebato to get the tone and endure the filming, and at the same time I knew that I never I was going to have another equal possibility ". Duque points out: "He was fully aware that he did something important in that film, and that his legacy was not going to grow any further, because it also went against the prevailing auteur cinema."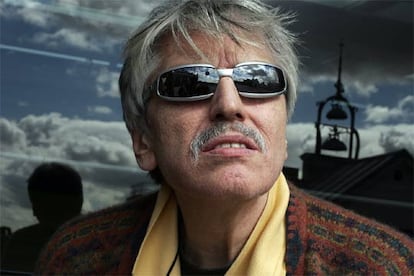 Chávarri has his own answer: "Is that, after Rapture, what can you do?". A masterpiece outside of time and place, a brutal reflection on personal and audiovisual vampirism. "I agree with Borau about his talent. Ivan, in a few years, the sixties, when you were red or you were nothing, lived only for the visual. He knew all the photographers, all the illustrators, he traveled to New York to look for Andy Warhol's The Factory when we didn't even sense that world here. It was as if he lived somewhere else, not in that Spain. He had an instinctive culture of the impressive audiovisual. To my generation, that idea of ​​a culture outside the canon, of something alive on the fringes, influenced us a lot. "
Outburst still carries passions around the world today. This week it is being screened in Los Angeles in a copy in 35 millimeters, and in other US theaters it was released this month with a restoration digitized in 4K. Chávarri's family lent a farm for filming —in the first image of the film, Will More shoots in Super 8 and is the transcript of Jaime Chávarri—, and the filmmaker laughs: "He went to the La Mata farm for four days. and he stayed for four weeks ". More serious, he reflects. "I met him in one of my guateques in 1964. He had a barbarian charm, and even with his hook, in his early days, before the heroine definitely made him feel bad, he maintained an impressive seduction. Rapture is so unusual, that I have not met any current film student who does not like it. Ivan has found his resonance. "