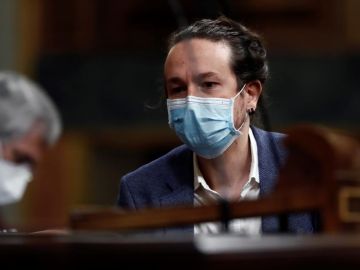 Posted: Thursday, October 22, 2020 1:04 PM
An Abascal ignored and relegated to the bench. Vice President Pablo Iglesias chose to bypass presidential candidate Vox with his own motion of no confidence. Instead, Iglesias addressed Pablo Casado, making him the protagonist of their ideological battle.
And is that "the motion of censure is against Pablo Casado". Or at least that's how the vice president interprets it. The leader of Unidos Podemos has acknowledged Casado's "brilliant political speech" in Congress, but insists that this break with Vox "is late". "You know you depend on Mr Abascal, you depend on the far right and which Europe does not like," added Iglesias calmly, comfortable with the speech he wanted to deliver .
Iglesias maintains that the PP "finds itself in an unfortunate strategic situation" and designates Aznar as responsible. "Mr. Casado, you should have had the strength to stop Aznar's feet. He added that the current head of the PP and Arrimadas "are the gateway to the far right", even if, he added, he does not consider Casado an ultra. "They made a huge mistake by giving wings to the far right. These gentlemen come out of you and win the battle," he said from the podium.
At his own request and in an extraordinary turn granted by Batet, Casado lifted Iglesias' gauntlet and responded by again asking for his resignation as vice-president. Moreover, and continuing the "ideological battle", Casado (in his more moderate version) demanded "that the hugs that Iglesias' grandfather and mine gave to each other not be undone by his grandchildren". Of course, hugs aside, he demanded that he deal with the management of the pandemic.
"We want a Spain like the one our children and grandchildren deserve. Ours has gone through difficult circumstances and that is what unites us, Mr Iglesias. The only thing", Casado stressed at the end of the " bonus track "granted.
Meanwhile, from his seat, Abascal witnessed a Conversation for Two, a supporting character from his own script. For this reason, he even drew poetry in turn to answer. "I know, Pablo, that you are not an ultra, he said, nailing his ultra pupil in his blue pupil," said Abascal ironically at the beginning of his speech, in which he criticized "the papal tone" used by Iglesias.
"I don't know in what capacity you intervened. You are ashamed of Spain, you said it in 2013. The enemy is everyone who does not think like you, for you Spain does not exist, "added Abascal, who still digested the politician 'slap' Casado gave him in the hemicycle. A patriotic argument that of Vox to which Vice-President Iglesias responded with force: "There is more dignity in the nail of a migrant who goes to work than in all the deputies of Vox."
Iglesias did not want to end his speech without blaming Abascal's sexist attitude towards United We can deputies. The Vox executive, in another show of respect and tolerance, described them as a "vase" and as "not representing women although that is". "We are not going to allow anyone to bring a dictatorship into the homeland. They will always have us before them. The homeland is the people," added an Iglesias, who even allowed himself to quote Cervantes (making allusion to Abascal).
"He needed the sword, looked sideways, went, and there was nothing."