Technology
"The pandemic situation in Spain is getting worse"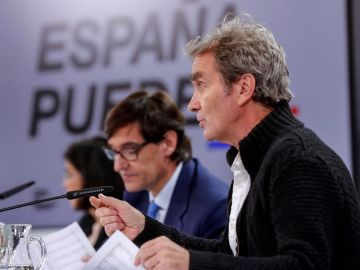 Updated: Thursday, October 22, 2020 9:11 PM
Published on: 10/22/2020 20:53
Spain has passed one million coronavirus cases and in the past 24 hours new infections have climbed to 20,986, setting a new record of bad numbers. The evolution of the pandemic in the country is not improving but is getting worse and keeping the health authorities concerned, who warn that it is not over and that citizens must be "aware of the situation".
This was warned by Fernando Simón, director of the Coordination Center for Health Alerts and Emergencies, who also acts as the spokesperson for health. "The course of the epidemic is not good. We are all tired, but we have to go the extra mile" to contain the infections, he said.
"The evolution of the epidemic is not as good as we would like, although there are autonomous communities that have improved, overall the situation in Spain is getting worse," said Simón.
The Minister of Health, Salvador Illa, joined the warning and assured during the press conference during which the new official data of the pandemic was communicated that "very hard weeks will come": "Make no mistake about it. It's not a threat, it's a reality. It's here. There is community transmission in all the territories."
Very hard weeks are coming. It's not a threat, it's a reality "
At the European level, as the spokesperson for Health explains, the epidemic is moving very quickly, it is in an ascending phase with worrying data in many countries, including ours. In Spain, although we are increasing the number of infections a little more slowly than in other European countries, "we do not know what will happen in the next few days, but we can predict that the trend will continue to be the increase, we don't know how much but we go up. "
Simón also indicated that this bad data is reflected in the occupancy levels of our hospital care system and in the pressure of primary care. "We are in an average intensive care bed occupancy of 21.8%, with at least six communities above 35%."
So, although he sent a reassuring message assuring that "it is not that the system will collapse", he acknowledged that "we risk that in some autonomous communities or provinces they may have to limit the routine hospital activity ".
Common plan against the coronavirus with four alert levels
The Interterritorial Council, along with the Ministry of Health and health officials from the Autonomous Communities, approved a joint plan to deal with the coronavirus pandemic. To this end, four alert levels and the corresponding measures that must be applied in each of them have been defined. For example, the recommendation to leave the house only as necessary at the highest levels of risk.
All the autonomies, with the exception of Madrid and Euskadi, which abstained, voted in favor of the project that the ministry presented to them on Thursday.